What are sororities and fraternities?
According to UW Oshkosh Fraternity and Sorority Life Adviser Angie Zemke, contrary to the stereotypes of Greek Life, which include 'terrible drinking habits and cultures, hazing and disrespect and disregard for women and inclusivity,' campus fraternities and sororities focus on student success within a safe environment.
Zemke said she does not deny that some Greek organization members may have issues with alcohol, but many programs are in place to prevent Greek events from getting out of hand.
"I think all college students struggle as they start to use alcohol," Zemke said. "Finding your limits and balancing how often you partake in social life while also adjusting to college homework and schedules is so tough. But, we have education to help them and standards to hold them accountable when they screw up."
Some UWO fraternity and sorority members are S.A.F.E. trained, which is a UWO program working to spread equality, and are bystander intervention trained to ensure students' safety at events. UWO has a zero-tolerance policy for any type of activity that could be identified as hazing.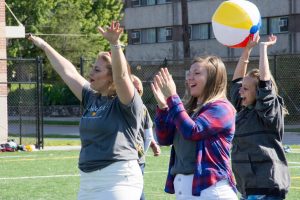 Sober monitors also check IDs at the door of greek social events and give out wristbands to those who are of age. Sober monitors are also required to make sure policies are followed and students are acting appropriately. Limits are put on the quantity and types of alcohol provided at events. Transportation must be provided so that students get to and from events safely.
UWO senior Jake Skoien said he thinks it's expensive to be a part of a fraternity or sorority.
"How I've always felt about frats in Division III schools is they're more of 'I can't get any friends, and I'm going to pay to get friends,'" Skoien said.
According to former UWO Interfraternity Council president and Beta Theta Pi member Shane Thomas, fraternity and sorority members pay dues to their Greek organization each semester.
"These dues go to the national organization and to the local organization to pay for chapter operations," Thomas said. "Members can pay their dues with a payment plan."
Beta Theta Pi members pay an average of $500 the semester they pledge to join and about $200 to $400 each semester after that.
UWO currently has five sororities (Alpha Xi Delta, Gamma Phi Beta, Gamma Alpha Omega, Zeta Tau Alpha and Sigma Sigma Sigma) and five fraternities (Beta Theta Pi, Delta Sigma Phi, Delta Chi, Sigma Pi and Omega Delta Phi.)
"On average, the sorority women are probably more organized than [fraternities] are in terms of operations," Thomas said. "I think, not always, on average, both at Oshkosh and on the national level, women tend to complete more service hours and will sometimes have better grades."
In order to be a part of a Greek organization, members must maintain at least a 2.5 to 2.7 GPA depending on the organization, complete 10 service hours each semester and two philanthropy hours.
Apart from these three requirements, UWO fraternities and sororities each have specific requirements for members such as a certain number of academic points (points awarded for high test grades and academic success) and a certain amount of weekly study hours.
UWO senior and Gamma Phi Beta member Mariah Heyden said volunteer hours are calculated based on an honor system.
"I can say I went to the Boys and Girls Club for two hours when I really only went for one," Heyden said. "Most people don't do that. It is an honor system … for philanthropy events, everyone knows if you go or not because the whole chapter is there."
Each Greek organization has its own philanthropic partner which represents the most-valued morals of the organization.
The sorority Gamma Phi Beta is partnered with Girls on the Run, which follows its philanthropy of "building strong girls." Members of Gamma Phi Beta must complete their philanthropy hours by having "running buddies," 8 to 13-year-old girls who they run with to promote a healthy lifestyle.
UWO Gamma Phi Beta member Hailey Lawrence said being in a sorority or fraternity isn't just for four years, it's for life.
"The people you'll meet and opportunities you'll be given will astound you," Lawrence said. "It was one of the best decisions in my collegiate career."