35 consecutive years of winning
At the National Model United Nations competition in New York from April 14-18, the UW Oshkosh Model UN team competed and won for their 35th consecutive year.
Model UN President and UWO Senior Matt Clowney said MUN allows students to represent a country in the setting of the United Nations.
"Students are given a country and are meant to represent that country's views," Clowney said. "At competitions students are split up across the entire conference and are discussing a large range of issues."
MUN vice president and UWO junior Zoe Dahse said a team of 26 students went to the competition.
"However, aside from the current team members, Oshkosh MUN is known for its wonderful 300 and more alumni which are still dedicated to the team as much as they were when they were on it," Dahse said. "Due to the large network of MUN, students and alumni are able to share experiences, furthering the depth of knowledge of current team members."
MUN member and UWO sophomore Matt Dinse said as a transfer student, he wanted to get more involved on campus in order to meet new friends.
"I saw a sign for Model UN outside of my art class, and since I have always been interested in national and international politics, I decided it might be fun to see what Model UN was all about," Dinse said.
MUN faculty adviser Tracy Slagter said she encourages other students to join Model UN as it is open to all majors and is stronger when there are multiple perspectives.
"We have a lot of political science and international studies majors, of course, but also education majors, an engineering tech major, economics, etc.," Slagter said. "The skills students build in MUN are transferable to every single major, and the network you develop through this organization is unparalleled. I always tell students that if you make a commitment to this team, the team will make a commitment to you that will last long after you graduate."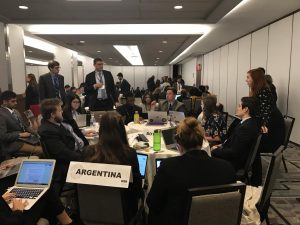 Clowney said a lot of the credit of why the team has won for so many years in a row is given to their late adviser, Kenneth Grieb.
"He was the backbone of this team for the past 34 years," Clowney said. "His passion for Model UN permeated to all of his students. He taught us how to be diplomatic, professional, confident and how to be the most knowledgeable at the conference. This year the hard work of the returning members enabled the team to pass on the years of institutional and topic knowledge, which led us to our win in New York."


MUN member and UWO junior Natalie Britt said being on Model UN requires a lot of hard work and dedication.
"It also means that you are surrounded by a group of people who genuinely care as much as you do about the world," Britt said. "Model UN is unique because it is a group that can have spontaneous intelligent conversation on highly technical issues, such as trade or development; and then, in the same conversation, argue about pop culture."
Dinse said Model UN has helped him in his field of study by giving him new, international perspectives along with sharpening his communication and writing abilities immensely.
"These skills are worked towards all year long in MUN, and you honestly can't learn them just sitting in a classroom," Dinse said. "This is why MUN is so unique."
Dahse said through her college career, she's learned the most through her experiences with Model UN.
"It has given me my closest family away from home, as well as a skillset which has shaped me to become the person that I am today and develop the aspirations that I have," Dahse said. "No matter what major you are, Model UN is for you. It teaches you research, public speaking, writing and negotiation skills that you will use on an everyday basis."
Those interested in joining the Oshkosh MUN team can email or stop by the MUN offices in Sage Hall 3444 or 3446.