Q&A with Dan and Colleen on the 2019 Innovation Challenge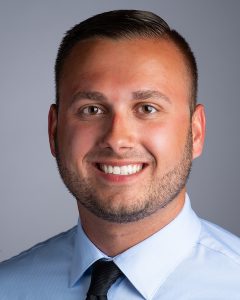 Dan Brosman
UWO Director of Alta Resources Center for Entrepreneurship and Innovation
Q. What is the Innovation Challenge?
A. A 24-hour event in which students, representing all disciplines on campus, will come together to tackle a challenge and improve the lives of the aging community. The event is in collaboration with Direct Supply and Evergreen Retirement Community, a modernized and innovative retirement community based in Oshkosh. Students will form teams at the Friday evening kickoff, determine which idea to explore and then spend Saturday diving deeper into what it would take to make the idea possible.
Q. Why should students get involved?
A. This event also provides an awesome opportunity for students to connect with others from the different colleges. You might meet a new friend, find a business partner, start a business or just become more open to entrepreneurship and its opportunities. Anyone can be an entrepreneur! Lastly, students may walk away with a really great idea for a business and decide to pursue it further — in which Direct Supply has the resources, funding and know-how to assist in making it a success.
Q. What kind of impact can this challenge make?
A. You could honestly make a difference in the lives of your family, friends, neighbors or whomever! Who knows what ideas will surface? If your idea shows potential, you could take it and turn it into something that is possibly life-changing. The aging community is growing and needs to be innovated. Why can't a new breakthrough come from a student at UW Oshkosh?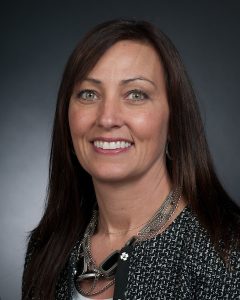 Colleen Merrill
UWO Executive Director of Alta Resources Center for Entrepreneurship and Innovation
Q. Has this happened in prior years?
A. This is our first time doing this, so we are in uncharted territory. We weren't really sure how many students would be interested. I think at last count we were over 70 students that have signed up. We were hoping for 10 teams of five, so we exceeded what we wanted. … So far we've heard from kinesiology, nursing, engineering, education and I think we have someone from the arts, so we have a variety of students who are coming together for this. It's really exciting.
Q. Why do you think students should get involved in this?
A. Our world is changing so rapidly, and it's really important for students to be lifelong learners and to be open to new ideas, to be able to identify solutions to problems. That's what entrepreneurial activities help you do is actually change your perspective, see things differently and be open to trying new ideas. So that, and it's just plain fun just being around a bunch of excited students and people that are really engaged in this whole chaotic process of entrepreneurship.
Q. When do you decide on a winner?
A. 3 p.m. Saturday. … They spend the day Saturday narrowing down an idea that they want to explore, then they can reach out to some elderly people and come talk to us to start getting some validation on what they're building. Then they put together a pitch deck and they'll all have like four minutes to pitch their idea in front of judges. Then we'll announce the top three winners.
Q. What kind of prizes will there be?
A. So there's earbuds, gift cards and food. We were trying to think of things that would entice students and things they want. Gift cards seem to be the big thing though. Anything that has to do with money and food without giving out hundred dollar bills, so we're giving out gift cards. We have $2,000 to spend on prizes and we're spending about $2,500 on food, so we will feed everybody well throughout the event.
Q. Anything else you'd like people to know?
A. I teach entrepreneurship, and we have a study abroad coming up in January to Belize for any student on campus as an entrepreneurship class. We also have a certificate in entrepreneurship and innovation which is new to campus which again is open to any student on campus. It requires three courses, one of which is that entrepreneurship course. We're hoping to create some awareness about that program as well so we get some students hopping on the trip to Belize and completing the certificate because it adds really nicely to any degree that you're seeking.