UWO student Daniel Salazar wins The Pitch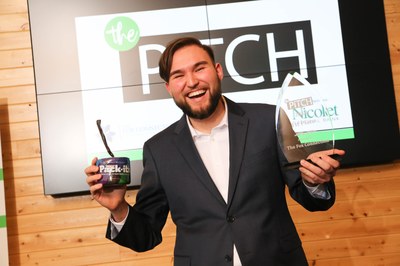 A UW Oshkosh business management major won The Pitch 2019, an entrepreneurial event offering regional students funding for their business ideas.
UWO business management major Daniel Salazar won the competition with his business Pack-Its, which sells biodegradable bags specifically marketed for single use in areas like the diaper and adult diaper industry and animal waste removal.
"I think there were a lot of other business ideas that were really good; there was a couple of them where I was like, 'Wow, that could be really scalable,'" Salazar said. "But I think that I won because this is my second or third time that I've pitched at contests, so I felt more confident. Also, I think how big the product can be because we have patents and licensing on the product, it could really become a big thing."
Salazar's product can be bought on Amazon and at pack-its.com.
The Pitch 2019 included 11 business ideas, two of which were from UWO: Salazar's Pack-Its and UWO business management major Cameron Schneider with REWIRE, a mindfulness education program intended to boost morale in the workplace.
Salazar won $15,000 from the event, which he said he plans to spend on advertising and employee compensation.
"We're planning on doing a lot of social media marketing with influencers, get as much press as possible and get the word out there," Salazar said, "and through Amazon there's also different ways you can advertise and give different discount codes."
This year the third annual Pitch event was held April 11 at TitletownTech in Green Bay. The event was coordinated by Fox Connections, a collaboration of academic institutions working to enhance entrepreneurial education and opportunity for students.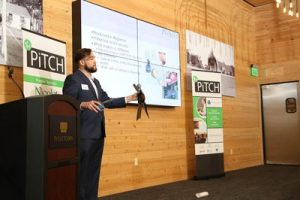 Participants in The Pitch are given four minutes to deliver their pitch and two minutes to answer questions. The winner of the competition is determined by five judges with backgrounds in investing, management and entrepreneurship from businesses such as Nicolet Bank (the event's largest sponsor) and Gulfstream Aerospace.
Each pitch is judged on its idea and value proposition, customer/market and strategy, team dynamics and advisers, financials and revenue model, uniqueness/competitive advantage and overall presentation.
The event is a follow-up to Culver's Business Model Contest, an annual UWO event that also offers students funding for their business.
The money awarded to the winners comes from the $2,500 annual membership dues each university pays to be a part of the Fox Connection as well as by sponsors of the event. The universities involved are UWO, UW-Green Bay, Lawrence University, St. Norbert College, Fox Valley Technical College and Moraine Park Technical College.
Schneider said he recommends the entrepreneurship program at UWO for its encouragement and lack of competition.
"Utilize the resources that Oshkosh has; the Center for Entrepreneurship and Innovation at UWO is amazing," Schneider said. "I would just say networking; REWIRE would be nowhere if it wasn't for the networking we have at UWO."