Holocaust horrors displayed at Reeve
The Gail F. Steinhilber Gallery on the third floor of Reeve Union will host an Auschwitz-Birkenau Nazi German Concentration and Extermination Camp exhibit through Sept. 27.
Associate Professor of History Karl Loewenstein helped put together the exhibit and said he was approached by the Polish Heritage Society of Northeast Wisconsin about it this summer.
"The exhibit has been displayed in several places around the state recently and was available for UW Oshkosh to display," Loewenstein said.
The Auschwitz-Birkenau Memorial and Museum in Poland loaned the exhibit to the university.
Art Gallery Attendant Claire Clough said the Holocaust is an important time in history people need to know about, especially since some individuals still deny its existence.
"It's terrible because it's this huge persecution of people," Clough said. "This exhibit does a really good job of highlighting a different group of people. It's a good perspective that needs to be brought to the table and talked about as well."
According to the UWO department of history, the exhibit consists of 31 panels all documenting the development of Nazism, the beginnings of the Holocaust and the camp itself.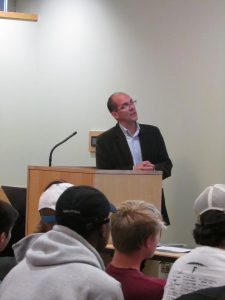 Loewenstein said he reached out to many interested people and discovered the gallery was open, and the chancellor's office willingly stepped forward to support the exhibit's display financially.
"I worked with Dr. Mouton to arrange the presentations and the coordinator of the Steinhilber Gallery, Emmet Sandberg, to display the exhibit," Loewenstein said.
A panel discussion on Sept. 11 was entitled "Nazism, Racism and the Holocaust." Loewenstein and history professor Michelle Mouton, who also helped with the exhibit, were panelists.
Clough said the Holocaust and the 1940s in general were a very interesting time.
"So many terrible things happened, and you never cease to be amazed by how awful people can be to each other," Clough said. "I think the photos in this exhibit really are insane photos that were taken and give a good insight on the time that this is happening."
For Loewenstein, Auschwitz represents the worst of humanity.
He said Auschwitz was part of a long process of dehumanization and demonization of Jewish people and anyone else the Nazis deemed inferior.
"The exhibit examines that process from its beginning, with the hate and prejudice that was part of Nazi ideology," Loewenstein said. "This is something that could happen again and we need to be constantly vigilant."
A Holocaust survivor is also involved in the exhibit. Eva Zaret, a Wisconsin resident, held a talk on Sept. 18.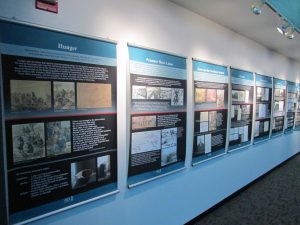 Also that day was a discussion on how to teach the Holocaust in American schools with Director of Education for Holocaust Education Resource Center of Milwaukee Dan Haumschild speaking.
UWO History Movie Club will be showing "The Pianist" based on the story of Wladyslaw Szpilman, a well-known Polish-Jewish pianist.
On Sept. 25, look forward to a panel discussion at 4 p.m. in Reeve Union Theatre, "Genocide and Hatred in the Modern World." Political science professor Mike Jasinski, English professor Cary Henson, and geography professor Heike Alberts will be the panelists.
Hours for the gallery are Monday and Wednesday 2 p.m.-5:30 p.m., Tuesday 9 a.m.-1 p.m. and 1:30 p.m.-4:30 p.m., Thursday 9 a.m.-1 p.m. and 1:30 p.m.-6 p.m., Friday 2 p.m.-4 p.m. and closed Saturday and Sunday.