N-Fit wins Elevator Pitch Competition
The Collegiate Entrepreneurs' Organization and the Alta Resources Center for Entrepreneurship and Innovation hosted the Elevator Pitch Contest on Oct. 8, where students pitched business ideas in 90 seconds or less for the chance to win a trip to Tampa, Florida.
UWO students Hannah Beyer and Evan Meyers, who workshopped their idea for several months, won the contest with their N-Fit Company, which is a website with the option to download an app which can be used to scan tags on gym equipment.
"It will show a video on how to do the lift, a description on the lift and why it's beneficial and numbered related lifts from which you can pick from in correlation to the numbered gym equipment, directing the individual where to go next," Beyer said.
Alta Resources Center Director Dan Brosman said students have just 90 seconds to convince the judges and the audience that their business idea can work.
"Student contestants this year are represented across all disciplines, including one student from the Fox Cities campus," Brosman said. "The contest is meant to be low-barrier and give students the opportunity to experience what entrepreneurship is all about. This contest is set up to prepare students for our annual keynote event in November, the Culver's Business Model Competition."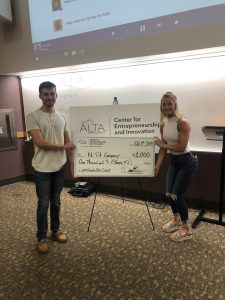 The business model competition seeks early-stage ventures demonstrating an ability to adapt to customers' needs. Each contestant has four minutes to present their business model, followed by two minutes of Q&A with the judges. The top three teams receive seed money, in-kind services and a place in the Titan Accelerator Program.
UWO freshman and criminal justice major Kennedy Foss came up with the business idea for Retrackable, which are shoes that have spikes or cleats on the bottom. By pressing a button on the back, the cleats retract, allowing for easier movement and injury prevention.
Foss said she recommends that people who are interested in starting their own company stick with it.
"Once you have your idea, run with it and make it happen," Foss said. "I'm a big believer in the law of attraction: if you tell yourself you can, then you'll be able to. So believe in your idea and believe in the possibilities."
Brosman said the contest is a great way for students to be exposed to entrepreneurship and the opportunities available. He said the Elevator Pitch Contest was exciting and educational for all those involved.
"We like to start each year with the Elevator Pitch Contest as it gets students excited about what's to come from the CEI [Center for Entrepreneurship and Innovation] in the year ahead," Brosman said. "Students should be encouraged to keep pushing forward on their ideas."
UWO junior and political science major Ian McDonald, who participated in the contest with his partner, UWO senior and political science major Jacob Rand, showcasing their videography company called Elevated Productions, said that those seeking to start a business should do what they love.
"Don't fall into something you like, but just put up with it because it could make you some money," McDonald said. "You have to start from the bottom and work your way up. You can't expect to win the lottery on your first try, you have to be willing to be the first one to show up to work and the last to leave."
Brosman said there are new prizes this year and the winning student will receive a paid trip to Tampa to pitch their business in the Global Pitch Competition at the CEO conference Oct. 31-Nov. 2 and have a chance at winning $5,000.
"In years past, we had awarded $1,000 to the overall winner," Brosman said. "But this year we had the opportunity to have our contest accepted as a qualifier event for the Collegiate Entrepreneurs' Organizations Global Pitch Competition at the end of this month."
Beyer said that those wanting to start their own business should start now.
"Starting young is the best thing you can do," Beyer said. "Make sure you're passionate about this. Otherwise, what's the point? Oshkosh has so many opportunities and resources that can turn your idea into something real.""