Strong defense and special teams play propels Titans past Pointers
The UW Oshkosh Football team dominated UW-Stevens Point in a 20-7 victory last Saturday, keeping the Titans undefeated in conference play this season.
The Titans, 2-0 in conference, and 4-1 overall, remain tied with UW-Whitewater for first place in the Wisconsin Intercollegiate Athletic Conference.
The Titans have the top-ranked defense in the WIAC, and their defensive talent was on full display against UW-Stevens Point.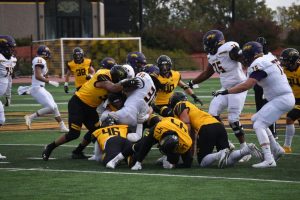 Junior Nick Noethe had a career-high 11 tackles earning him WIAC team of the week honors, and junior Logan Heise returned an interception 27 yards for a touchdown.
"Every week we try to play sound defense and fortunately we have a bunch of guys that do the right thing, and it really helps," head coach Pat Cerroni said.
The defense's ability to create turnovers has been essential to the Titan's success all season, notching two against UWSP.
Heise credited the defense's standout performance on Saturday to the teams work ethic in practice.
"We had a great week of practice and we just came out on Saturday and executed," Heise said.
The great defensive effort from the Titans was paired with a solid outing from the offense and special teams.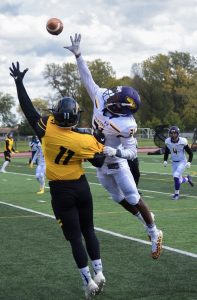 The Titans continued to dominate with the ground game, using six different rushers to notch 134 total rushing yards against UWSP.
Freshman Kobe Berghammer led the Titans in passing, completing 11 of 22 pass attempts, throwing for 89 yards and a touchdown.
Special teams also played a major role in the Titans' victory Saturday with sophomore Jaydon Haag kicking two field goals, earning WIAC team of the week honors, and freshman Connor Hanley blocking a punt giving UW Oshkosh the ball at the 10-yard line.
"Special teams made a really significant impact on Saturday," senior long-snapper Mitchell Berg said. "A lot of the guys on special teams are younger, they may not have been as familiar with special teams coming out of high school, but I think now they are getting more experience on special teams, and it's really starting to show."
The Titans hope to continue the positive momentum into their homecoming game this Saturday against UW-Eau Claire.