Student sets sight on state senate

Soon-to-be UW Oshkosh graduate Aaron Wojciechowski is running for Wisconsin's 18th State Senate seat as a Democrat against incumbent Republican Dan Feyen.
A 22-year-old Delavan, Wisconsin native, Wojciechowski said his campaign will center on issues concerning affordable health care, teachers, minorities, marijuana legislation, sustainable infrastructure, young people and the positive direction of Wisconsin. He announced his candidacy Oct. 10 on the steps of the Winnebago County Courthouse.
He will graduate this December with majors in economics and political science.
In 2016, he was elected District 16 supervisor on the Winnebago County Board where he has worked to improve information technology programs. He also worked on Winnebago County Executive Mark Harris' "Harris for Wisconsin" Senate campaign.
He was the Northeast regional director at College Democrats of Wisconsin at UWO and the programs and policy analyst at Wisconsin Department of Health Services.
He wants to bring change to a "broken" system in Madison, adding that the current politicians are out of touch with their people.
Wojciechowski said current legislators changed principal policies as soon as Democrat Gov. Tony Evers was elected. He cited trade policy decisions that directly impacted Wisconsin farmers as proof.
At his announcement, he explained his experience with the health care system.
"Four years ago, I went to the emergency room," he said. "I waited almost an hour for what ended up being a short conversation. In the end, it was suggested I just take some Aspirin. Imagine my shock when I received a $2,000 hospital bill," he said.
He is still paying for that bill, and student loans, housing and general living expenses that he said, like many people's financial situation, current wages do not fund.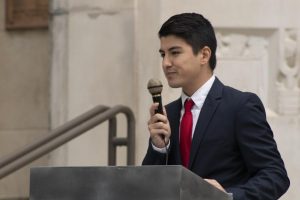 He said his competitor Feyen voted "no" on Medicare expansion despite 70% support. He said changing health care policy starts with electing the right people.
"Fixing our broken health care system means working to lower the price of prescription drugs and keeping big pharmaceutical companies accountable."
He said electing him means progressive leadership in Madison.
"This campaign isn't simply about winning; it's about the future of Wisconsin," he said. "It's about creating a state where families can live comfortably and where kids can grow up and thrive. I'm running to restore power back to the people and make real progress on the issues we care about."
Tony Palmeri, UWO Communication Studies Professor and husband of Oshkosh City Mayor Lori Palmeri, introduced Wojciechowski to the crowd outside the courthouse.
Palmeri said Wojciechowski is the best candidate for state senator he has seen in a long time, describing him as a leader on the Winnebago County Board and at UWO.
He said Wojciechowski is part of a growing trend in politics that involves young people shaking up the traditional political agenda, and that Wojciechowski is not afraid to have difficult conversations and stand up to power. Palmeri said he will do well for the economy and for teachers.
"We finally have a governor of the state who supports education," Palmeri said. "But, as you know, he is not getting enough support from the State Senate. We need Aaron Wojciechowski down there to fight for public education."
Feyen, 51, was elected to State Senate of the 18th district in 2016. He took a leadership position as the assistant majority leader in 2019.
His most recent authored proposal was Senate Bill 481, which related to establishing a career advancement scholarship program and donating a sum of money to it.
"This is my message to all," Wojciechowski said. "Regardless of political affiliation or ideology, we won't agree on every issue, but I promise to always be present and have those conversations. I will not hide from those who disagree with me. I will do my homework and show why I vote the way I do."
Elections for the office of Wisconsin State Senate will take place in 2020. The general election will be held on Nov. 3, and a primary is scheduled for Aug. 11.
Wisconsin state senators represent an average of 172,333 residents. After the 2000 Census, each member represented 162,536 residents.
Members of the Wisconsin State Senate serve four-year terms and are not subject to term limits. Half of the senate is up for election every two years. Wisconsin legislators take office the first Monday in January following the election.
In 2016, Feyen defeated Harris in the Wisconsin State Senate District 18 general election 55.89% to 44.11% with 46,076 total votes.
"I'm running for this office because for the last nine years, under the leadership of politicians like my opponent Dan Feyen, politics in Wisconsin has been divisive, hyper-partisan, petty and most importantly has obstructed the will of the people," Wojciechowski said. "My top priorities include expanding Medicaid and ensuring that every Wisconsinite has access to quality and affordable health care.