Axios co-founder talks career milestones, thanks his midwestern and UWO roots
It's not that the co-founder of Axios has a disapproval for all other media outlets, it's that he wants to have a commanding position over them.
And no matter how far into the annals of the Nation's Capital UW Oshkosh alumnus James "Jim" VandeHei buries himself, there will always be very little doubt about where he comes from and what makes him the 84-hour-work week type of person he is.
"To be a good journalist, you have to be fearless, not reckless," he said to the Advance-Titan staff who visited the Axios office on Nov. 1. "You need to be clear thinking. You need to be able to write in a way that actually brings me in and opens my mind and illuminates something. You need to gain some level of expertise. It's not enough to sit on a bus and write what everybody else writes."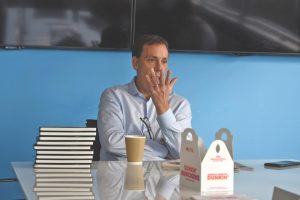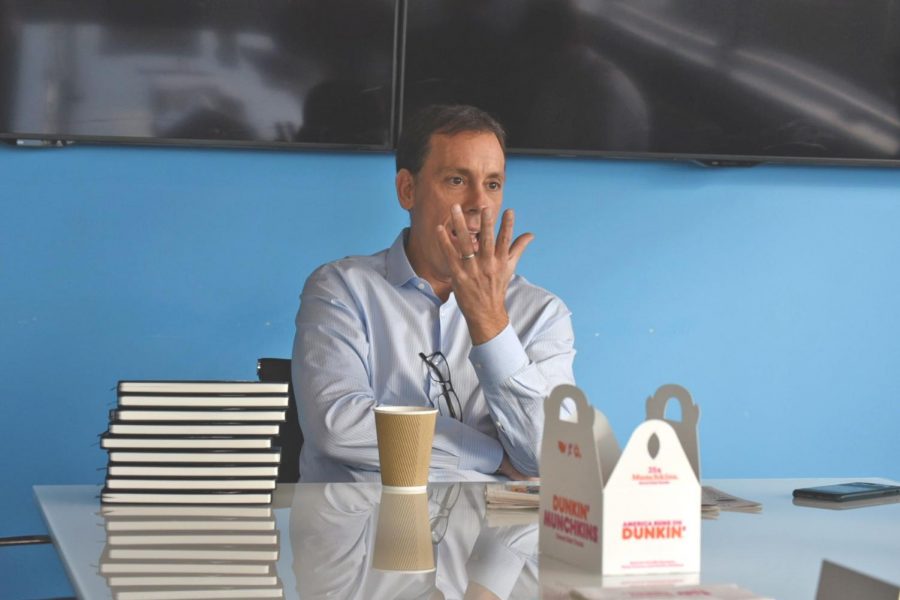 For non-journalists, he said, "If you want to be good, I'm sorry but the people who are really good at stuff work hard. I have a screw loose; I work 12 hours a day, seven days a week. I would do it for free if it wasn't my job. That is the trick to life. There will come a time when you have a couple of kids and have to support a family — where you just have to earn money. Until that point you should be in perpetual pursuit of something that brings you true joy."
"I love what I do," VandeHei said. "There is nothing that I do right now that I find a drag. If you can get that alignment, then you will be successful at what you do."
His Arlington, Virginia office on the 13th floor of the Clarendon Boulevard Suite overlooks the long grassy National Mall with the Capital Building, Washington Monument, White House and Smithsonian museums on its flank.
Pop art illustrations of President Donald Trump, tanks and money line the office walls in bright orange, blue and yellow colors.
He speaks with occasional profanity, with confidence and little emotion.
He hires "the best" employees, people who are "of the right gene pool, that understand subjects better than anyone else, and already read by the most powerful people in the country and world."
That doesn't mean his reporters have tenure at legacy papers like The New York Times or the Washington Post, VandeHei's former employer.
The average age of his employees, he said, is somewhere in the 30s.
While the Advance-Titan was sitting in his conference room, an employee answered a FaceTime call on her MacBook Air and spoke into her wireless AirPod headphones. She went into a room reserved for quiet time and relaxation, a place to get away from work.
Each meeting room in the Axios office has the same Axioms that headline their stories; ones like "why it matters" and "1 big thing."
In the "1 big thing" meeting room, VandeHei spoke to the reporters about politics and why it was the reason he became who he is and his love for it.
He told a story about how he acquired the phone numbers of congressmen in the '80s, when he was working for Roll Call, then his dream publication at the time.
"All I would do is just wait for them and figure out when they would meet and call them and let them just trash each other," he said. "And from that I figured out everything that was going on. I knew better than anybody in the Capitol what House Republicans were going to do next because I figured out who to milk for information."
Those four congressmen were Newt Gingrich, Thomas DeLay, Richard "Dick" Armey and John Boehner.
VandeHei was the first person to find out that House Republicans were meeting in the basement of the capital building and diverting money from a slush fund to a preliminary investigation that led to the impeachment of President Bill Clinton. VandeHei was 24 at the time.
He's come a long way since going to UWO, and at first struggling to get his GPA over 2.0.
He covered high school sports for the Oshkosh Northwestern and spent a summer at the Brillion News when the editor left to vacation in Europe.
After graduating from college with a double major in political science and journalism, VandeHei moved to Washington D.C. without a job, first working as a brick layer to pay his bills.
With persistence, he achieved his dream of working at Roll Call and surpassed his dream by working at the Wall Street Journal, taking that a step further with The Washington Post, and starting Politico and Axios.
Axios lives to serve their community with efficiency. Every article has the word count listed in a sort of headline type of way. Their motto is Smart Brevity. They make their money off newsletters and have support from NBC news.
"I've really grown to believe that just covering politics is not enough. It wasn't healthy for me. It wasn't healthy for society. We needed to be able to cover politics, but all the other big topics that are going to change your lives and shape your world: artificial technology, robotics, China, health care. Big epic politics. These big epic debates that are in constant collision. That require you, me, all of us to get a lot smarter a lot faster."