Business professor gains U.S. Citizenship
The path to citizenship for a UW Oshkosh business professor began while he was in high school, but it was a winding and decades-long journey for Jakob Iversen, who finally became a U.S. citizen on Oct. 24.
The current UWO associate dean for the College of Business and information systems professor was born in Hoersholm, Denmark.
As a 17-year-old student, he journeyed to America through a Rotary exchange program, finding himself in Edmond, Oklahoma. That is where Iversen met and started dating his future wife, Kim.
"In Denmark, it's more common to pursue a five-year master's program than a bachelor's degree after high school," Iverson said.
He earned his master's in software engineering computer science at Aalborg University in Denmark, thinking he would become an engineer. But Iversen said that all changed while in the middle of his academic thesis project.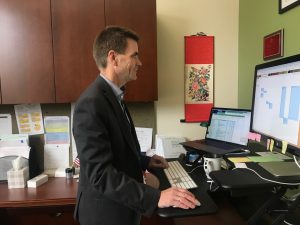 After receiving government funding, he and his partner were hired to continue work on the project. This led him to pursue his doctorate in computer science at Aalborg University.
Then, in the midst of his major research project, a visiting professor from Virginia Commonwealth University encouraged him to apply for teaching positions in the United States. After considering it, Iversen applied to several universities, including UWO.
"I was kind of interested in that. My wife is American and so I thought it would be fun to be in the states for a few years … kind of to see what that was about," he said.
Soon after, Iversen received an offer for a teaching position at UWO. During his two decades at the university, Iversen carried a green card.
He said that he didn't apply for citizenship sooner because Denmark did not allow for dual citizenship until 2015.
"If I had applied much sooner, I would have lost my Danish citizenship. I didn't see the benefits of gaining American citizenship outweighing the drawbacks of losing the [Danish] one," Iversen said.
He said that after the law changed, it seemed like the next natural step. In April, Iversen filled out the lengthy citizenship application.
At the end of April, Iversen went to Milwaukee for a biometric appointment where they took his picture and fingerprints.
In August, he was called back to Milwaukee for an interview to go over his documents and to take a civics test.
Out of the 100 questions that could be asked, Iversen said, "They [picked] up to 10 questions at random [and] you [had] to answer six correct."
During his quest for citizenship, Iversen said he found a Facebook group for Danes looking to gain U.S.
citizenship. He said this was a great resource for him when he had questions about the process.
"That was probably the most helpful along the way, was finding that group," Iversen said.
He advised other individuals seeking citizenship to find something similar.
Now that Iversen is a citizen, he is most looking forward to voting. He said he hasn't voted in any elections in the last 20 years due to his non-citizenship status in the U.S.
Still, even before Iversen obtained his citizenship, his impact on the College of Business at UWO was no secret. In fact, he led the effort to create a new major in the College of Business known as interactive web management.
Iversen has also had an impact on his students, including Adam Carlson, a fifth-year accounting and information systems major at UWO.
Carlson said he was in Iversen's agile application development course and said that while the class was challenging, it was also rewarding.
"Dr. Iversen did a great job [with] a class that could have been very boring and difficult, and instead making it interesting," Carlson said.
Iverson hopes to continue doing great things at UWO under his new status as an official U.S. citizen.
"It's been a rewarding career here for the last 19 years," Iversen said.