UWO alumna receives Fulbright scholarship
Last June, 2013 UWO graduate Alaina Landi received a Fulbright U.S. Student Program award to Colombia in Teaching from the U.S. Department of State and the J. William Fulbright Foreign Scholarship Board.
Landi said the Fulbright scholarship is a program that gives U.S. citizens the opportunity to either teach or do research abroad in a country of their choosing.
"It also grants scholarships to people in other countries so they can teach and/or study in the U.S.," Landi said. "It's a government exchange program essentially."
Landi said she received the Fulbright scholarship in order to go abroad for the 2018-19 academic school year to teach at a university in Colombia.
"I was placed at La Universidad Nacional de Colombia in Bogotá," Landi said. "I earned the ability to go there as a Fulbright grantee. I hadn't been there prior to earning the scholarship."
Landi earned the scholarship in part due to her prior teaching in Spain. After graduating, Landi moved there to participate in the English Language Assistant program, living in Badajoz for three years where she taught in four different schools, eventually opening her own English academy.
She was placed in Badajoz by the government program Auxiliares de Conversación, working in elementary and high schools there for three years.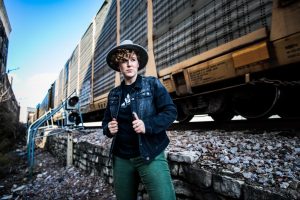 "English is massively important for Spaniards to learn in order to compete in the European marketplace, so I had tons of people asking me for private classes," Landi said. "It made sense to optimize my time and resources by organizing all the requests into an academy, in which we'd have a more structured curriculum, small group classes and other teachers with diverse perspectives and accents. It was an opportunity to offer something that benefited everyone involved."
Landi believes her teaching experience in Spain combined with a degree in English with an emphasis in creative writing and her language level are all big factors as to why she earned the Fulbright.
"I also had a solid project proposal that aligned with the direction the country was taking in terms of education and writing," Landi said. "So my background, as a whole, made me a strong candidate."
UWO alumna Carly Washebek, a former colleague of Landi's, said she's not at all surprised that Landi received the Fulbright Award.
"She had the teaching and writing experience, which were central to her application," Washebek said. "And she was focused and determined to make it happen, so I had no doubts."
Landi's time as an educator abroad led her to come up with an idea for an educational clothing brand, Victress Vibes, that features designs and text that reshape women's narratives. She and her business partner, Courtney Hellendrung, were both in Colombia when they realized that the movement for women's rights was global.
"In college, I worked a lot with pattern design and T-shirt graphics, working on multiple clothing lines that focused on gender identity and women empowerment," Hellendrung said. "In Colombia, Alaina aimed to teach writing in English to Colombians in order to allow them to reshape the narrative of their country in a new way. We combined these two ideas in order to create Victress Vibes, where I bring the design and Alaina brings the words, in order to reshape our collective history by making women's stories more accessible."
The idea became a reality in October when Victress Vibes went up for crowdfunding on iFundWomen.
"We create designs inspired by real women in history or of today and hand print them on sustainable clothing. Each design is accompanied by a written story that can be accessed through a QR code that is attached to each piece," Landi said. "We'll be ending the campaign on Nov. 14, coinciding with a fundraiser to officially launch the business."
Landi's advice to anyone wanting to go abroad is to just do it.
"The benefits of personal growth and broadening of perspectives gained through an experience like this far outweigh any superfluous concern you might have about taking the leap," Landi said. "For me, it has been like planting seeds, each one has grown to bear fruit I could have never dreamed of that have benefited me personally and professionally."
Hellendrung said she feels fortunate to know Landi and have her as a business partner.
"I feel so fortunate to get to have such a passionate, creative human to challenge me and help this business grow," Hellendrung said.