Road construction more than street deep
In Wisconsin, some say there are only two seasons: winter and road construction.
Road construction can have an impact on anyone needing to reach their destination, whether it's through delays or detours. This can cause frustration among drivers and passengers and can wreak havoc on anyone's day.
According to the Wisconsin Department of Transportation's 511 Wisconsin Construction Projects website, there were a total of 56 construction projects ongoing throughout the state as of Nov. 7, 2019.
That number only includes Wisconsin highways and excludes any Wisconsin city street projects. In the City of Oshkosh, street projects are fairly common as well, with projects planned for the next five years, according to Oshkosh Public Works Principal Civil Engineer Justin Gierach.
City residents can expect a couple of major projects to impact travel during the coming year. The city streets department will be reconstructing a portion of Oregon Street in 2020 and the Highway 21 bridge over the Fox River will be closed for repairs beginning in January 2020 and continuing through the summer.
Aside from street projects in the City of Oshkosh, major highways throughout the state have been experiencing construction of some kind, including a multi-highway project involving Interstate 41 in the Fox Valley, According to Tom Buchholz, project development manager for the Wisconsin Department of Transportation's Northeast region.
Buchholz said one project that's nearing completion after nearly five years will upgrade WIS 441 from four to six lanes and upgrade the interchange at Interstate 41, Highway 10 and 441.
"All the system movements that if a driver wanted to go west on U.S. Highway 10, the ramp movements we're restoring those, so a pretty major project for Northeast Wisconsin that is completing," he said.
In addition to the Fox Valley, areas in southern and Southeast Wisconsin are also seeing major projects involving interstates.
"If you travel from Madison to Rockford on I-39/90, there's a major four-to-six lane expansion — that 50 miles of interstate — that's been ongoing and continues and will continue until 2022," Buchholz said. "Another recent one is between Milwaukee and Chicago on the I-94 in Milwaukee, Racine and Kenosha counties and that stretch will wrap up early in 2020."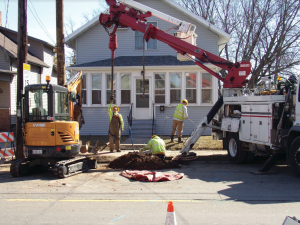 In the City of Oshkosh, Gierach said the timing of when projects will happen and which roads are closed when comes from regular street assessments and underground utility issues.
He said every two years the city rates streets on a scale of one to 10, one being fully deteriorated and 10 being brand new.
"Currently the city has significant amounts of streets less than a four," Gierach said. "We've got a fair amount of work to do just to keep up, but the average street inventory is between seven and eight, so we're at a higher end for overall street ratings."
He said some projects are utility driven and that "the infrastructure underground, sanitary sewers, water mains and storm sewers are either failed, undersized or deteriorated to the point where they need to get replaced."
On the state level, Buchholz said there are two sections within the DOT that determines projects.
"Our maintenance section in our office and our programming section work together to select projects based on pavement needs," Buchholz said.
He said the DOT generally works on a six-year program and is looking at projects right now that are going to be constructed in 2026 and 2027.
On the state level, each project begins with an environmental study to determine if construction could be of harm to wildlife at or near the designated site. Projects then transition into the first phase which, depending on the project, may take anywhere from one to five years to complete.
The first phase, the design and planning phase, begins a year ahead of construction in the City of Oshkosh. Assessments of the site and designs for the project are done during the winter months.
Also taking place during the design and planning phase is the project timeline. For projects in the City of Oshkosh, Gierach says a project's timeline is usually based on how long the contractor is likely to take.
"We go through an estimating process to give contract windows," he said. "So there's no real, 'This project's going to take three months.' It's kind of diving down once the plans are completed to knowing that a contractor should take 'X' amount of time to get a project complete. That's kind of how we try to break our windows down."
For state projects, Buchholz said a project timeline is determined based on what the project consists of.
"[It] depends on the size and complexity, and short resurfacing could last a month and certain projects that we completely reconstruct the road could take all year," he said. "So generally we start in April and then finish in November with construction season before the weather gets too cold to place material."
With so much construction taking place throughout the year, it's not uncommon for members of the public to voice their opinions.
For Gierach and other members of Oshkosh Public Works, any feedback they receive is generally mixed. However, they've also witnessed occasions of generosity.
"During the construction, people can be unhappy with access and the contractors being there," Gierach said. "We also get the flip side of that too where people realize that they have to be here. They kind of embrace the contractors. A lot of times, we have residents that make cookies or order pizza or something for the construction crews out there."