Preliminary hearing set for former IT specialist charged with theft of university property
A preliminary hearing date of March 5 has been set for former UW Oshkosh IT Specialist Michael Van Vonderen, who has been charged with theft of movable property for allegedly stealing university equipment and selling it to local pawn shops.
The hearing was set in a court proceeding Feb. 6 at the Winnebago County Courthouse. If Van Vonderen is convicted of theft of movable property charges, a class G Felony, he could be fined up to $25,000 or sent to prison for a maximum of 10 years, or both.
According to documents filed in Winnebago County Circuit Court in November 2019:
Van Vonderen admitted to stealing a classroom projector, two iPads from Headstart, a couple Dell laptops, two MacBooks and two computer monitors.
He confessed to stealing the items when he handed in a resignation letter to IT Information Service Director Victor Alatorre in early September 2019.
He told Alatorre that he was resigning due to financial trouble and that he pawned the stolen equipment off at EZ Pawn and Pawn America for approximately $3,000.
Alatorre also discovered that Van Vonderen had rented seven pieces of equipment from Polk Library in August 2019, which were not recovered as of Van Vonderen's resignation.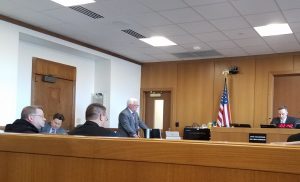 University Police Department Detective Mike Bartlein investigated the thefts and found that Van Vonderen had also pawned items at Fast and Easy Pawn and Mister Money.
Bartlein contacted each of the pawnshops and was able to recover some of the stolen equipment, but some items had been sold before they could be recovered. Specifically, Fast and Easy Pawn had sold an iPad Air, an Apple DVR and a MacBook Pro.
On Sept. 16, Bartlein conducted a more thorough search to determine how many pawn transactions Van Vonderen had conducted, finding that he completed 93 transactions of 115 items at seven stores for roughly $12,000.
An audit team documented missing items and determined that over $28,000 of university property linked to Van Vonderen was not recovered.
The audit found that 24 unrecovered items were pawned by Van Vonderen, eight items were recovered and seven items have not been returned to Polk Library.
According to court records, several items went missing in January 2019 such as a 4k camera valued at $559, and accessories for the camera valued at $129.
University Marketing and Communications Media Specialist Patrick Flood first noticed the items were missing and asked Van Vonderen about them. Van Vonderen told Flood that he had lent the camera to a friend in Chicago and that he would have to go there to get it back.
In February 2019, Van Vonderen returned a camera; however, in later auditing UWO determined the camera that was returned had a different serial number than the one that had been missing.
Later that same month, Jason Page began working for UMC as a media specialist and was familiarizing himself with the equipment, when he noticed that an audio recorder was missing.
Page asked Van Vonderen if he had borrowed the recorder, and Van Vonderen replied that he had run it over with his car. The serial number of the missing device was later matched to one that had been pawned.
Van Vonderen signed a bond in December that prohibits him from contacting anyone mentioned in the initial criminal complaint, including Alatorre, Bartlein, Flood and Page.
The bond also barred him from having contact with UWO, besides traveling through the campus, but that was amended on Feb. 6 to allow him to have contact with university property for employment purposes.
According to Van Vonderen's lawyer, Daniel Muza, Van Vonderen has been employed as a delivery driver for DoorDash and has to stop on the UWO campus to deliver food.
He will appear again in court at 10:30 a.m. March 5.