Alternative break offers adventure
This past winter break, nine students and an adviser packed their bags for a seven-hour flight to Puerto Rico on Jan. 25 and came home Jan. 31.
These students got some free time to enjoy the beautiful beaches and relax; it was a service-based trip as well as an educational one. Nicole BellCorelli, the program adviser and the group adviser for the trip, said that they "really tried to focus on service work and opportunities to learn more about Puerto Rico both before and after Hurricane Maria."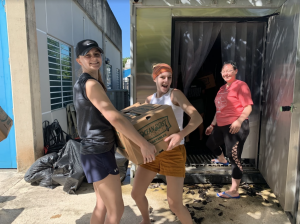 The students helped to rebuild homes that were destroyed during the hurricane with the St. Bernard Project that helps areas impacted by hurricanes. The group split into two and drove to where the hurricane touched down.
They helped Angel Mora and Martin Velez Rio to restore and rebuild their homes. The group also participated in ecological restoration projects like sea turtle monitoring, sea turtle nesting area restoration and dune restoration.
On Jan. 30, the group traveled to Camuy to move trees, prepare tools and signs, plant and prune plants and finished with a beach clean up. This was all to help restore the natural hurricane and storm barrier to the shoreline.
The coordinator said that the group got more done than a larger group there before who worked double the time they did; they did a week's worth of work in one day.
On the final day of the trip, students got to help endangered manatees by working in the rehab center, cleaning the pools and cages, preparing the manatees' food and filling up the fridge with it. After helping the manatees, the students went to a neighborhood to hear about the efforts to improve residents' homes after the hurricane.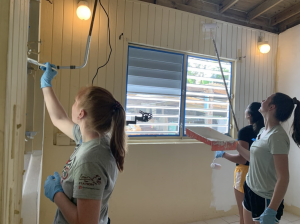 A blog posted during the trip said "It was good to know that we have not just been exposed to the tourist version of the island."
This was similar to the students' thoughts after each activity when they had discussion and reflection. BellCorelli said that during these, the groups "look[ed] back at the service work we did that day or what we learned about Puerto Rico.
We talked a lot about how, as a group of 10, we were able to accomplish a lot of work that would have taken longer had we not been there."
This trip to Puerto Rico was only the first of four service trips that Alternative Break has planned. There will be a service and leadership trip to Black Mountain, North Carolina, a diversity and inclusion trip to Atlanta Georgia and an education and privilege trip to Honduras all over spring break.
If Alternative Break interests you, check out https://uwosh.edu/altbreak/ for more information.