Coronavirus infects 37,000 people
Over 37,000 people around the globe are infected with 2019-nCoV, or more commonly referred to as the coronavirus, surpassing the deaths caused by SARS with over 800 dead, according to The Guardian.
There are two confirmed cases in the area, one in Illinois and one in Wisconsin. One of these patients is being treated at UW Madison's hospital along with 13 other cases from around the country.
At this time, the Department of Health and Human Services said the virus is low risk for people living in Wisconsin. But what exactly is the coronavirus? The symptoms start with a fever, cough and shortness of breath, but can deteriorate into pneumonia-like-symptoms and death.
Director of the Student Health Center Karen Sanchez said in an email that in order to prevent getting sick, people should wash their hands with soap and water and avoid contact with sick people and dead animals.
"Anyone who is not feeling well and may have been exposed to coronavirus, should contact their healthcare provider by phone and then visit their provider," Sanchez said. "Students should call ahead and then visit Student Health Services, first floor, Radford Hall on the Oshkosh campus … or contact your healthcare provider or nearest urgent care outside of business hours."
The coronavirus is an airborne infection that, within 10 minutes of contact and within 6 feet of an infected person, can almost guarantee transmission, according to the Washington State Department of Health.
"There are no medications specifically approved for coronavirus," the Washington State Department of Health said.
"Most people with mild coronavirus illness will recover on their own by drinking plenty of fluids, resting, and taking pain and fever medications. However, some cases develop pneumonia and require medical care or hospitalization." On Jan. 30, the World Health Organization declared the coronavirus a global health emergency. Twenty-eight countries were infected as of Feb. 9.
Much is still unknown about the exact origin of the virus and its genetic makeup, but the CDC website said, "At this time, diagnostic testing for 2019-nCoV can be conducted only at CDC."
If the infections become worse, the best defense, other than using a 60%+ alcohol hand sanitizer, is using an N95 filtering facepiece respirator, according to the CDC. At this time the CDC is not recommending mass usage of respirators. Only those infected or who are at risk should wear a respirator and contact a medical professional.
A large concern has been raised in the American public about using items imported from China, but the CDC said that there is no need for alarm. "The CDC does not have any evidence to suggest that animals or animal products imported from China pose a risk for spreading 2019-nCoV in the United States," the CDC website said.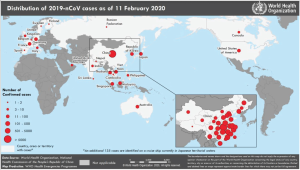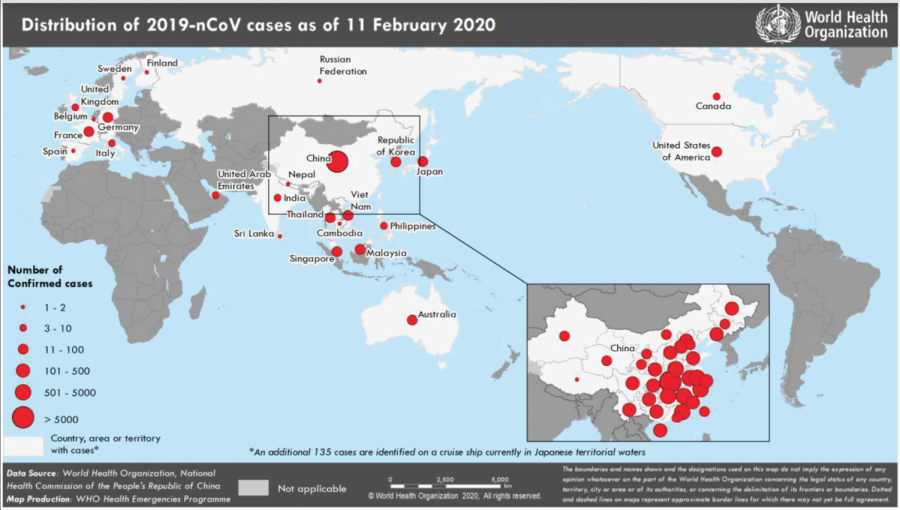 "This is a rapidly evolving situation and information will be updated as it becomes available." With all the concern caused by the coronavirus, many health officials still say we need to be looking at the flu, with 15 million cases in the U.S. and 1,400 deaths according to a new report out of the Milwaukee CDC.
The influenza B strain is one of the more fatal strains circulating and of this season's flu infections, 50% are concentrated on people under 25 with 54 pediatric deaths.
According to the CDC, symptoms of the flu include fever or feeling feverish/chills (though not everyone with flu will have a fever), cough, sore throat, runny or stuffy nose, muscle or body aches, headaches, fatigue and some people may have vomiting and diarrhea, although this is more common in children than adults.
To avoid the flu, the CDC recommends taking the time to get your flu shot, avoid contact with sick people, limit contact with others while sick, use alcohol-based sanitizers and wash hands frequently, disinfect surfaces like doorknobs and counters and avoid touching your, eyes, nose and mouth. For more information about the coronavirus visit https://www.cdc.gov/coronavirus/2019-ncov/.html.