Food pantry opens in Reeve Union
The Cabinet, UW Oshkosh's new campus food pantry, opened Tuesday afternoon in Reeve Memorial Union's Titan Underground and will be open to all Oshkosh campus students.
The Cabinet was created in response to research done by its director and McNair Scholar, Joy Evans.
Campus meal plans, which are required for students living on campus, can be very costly. The most expensive meal plan is billed at $1,850, and includes 200 meals and 300 Titan Dollars. The most affordable meal plan sits priced just over $1,000, including 100 meals and 100 Titan Dollars, scarcely enough to eat one meal a day in a dining facility.
"Food insecurity is, in my opinion, such an underestimated issue, and it's really a big deal," Evans said. "It's a big deal for this campus in particular."
Juliana Kahrs, UWO assistant director of health promotion, told The Advance-Titan in October that food insecurity can have negative effects on many aspects of a person's life.
In some cases, students who suffer from food insecurity may experience side effects that are massively detrimental to students' academic performance and physical well-being, such as anxiety, depression, low amounts of physical activity and unhealthy weight.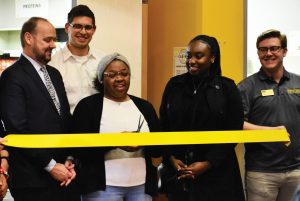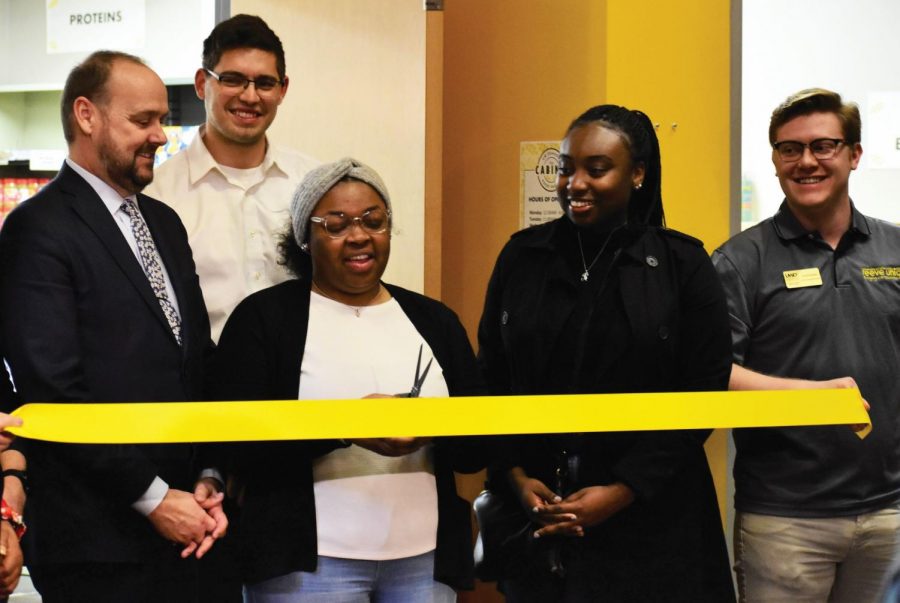 "I've always had a passion for making change, and I'm really glad that my research can be a part of something like this," Evans said.
UW Oshkosh Chancellor Andrew Leavitt spoke briefly about the importance of The Cabinet.
"The fact that over the last few years we could accomplish something like this is nothing short of amazing," Leavitt said. "It's very, very important that this facility exists. It's upon all of us to support this food pantry"
Karen Walsh, a member of the UW System Board of Regents, also spoke at the event.
"Your generation is teaching our generation every day about the problems of the world," she said. "That you have the courage to talk about them, but to do more than to talk; to put the talk into action."
The Cabinet will fill a hole in the needs of on-campus students that has likely existed for years, but simply has never been addressed.
"There were a lot of years in this country that we didn't talk about hunger on campuses," Walsh said. "It's not as though it wasn't there; it was there, just like mental health issues have always been there. It's the people your age that are encouraging us to talk about it and do something about it."
The Cabinet represents the years of hard work by students like Evans to meet the needs of the campus community.
"I'm so just in awe of everything that's going on here at this university," Joy Evans, student director of The Cabinet, said. "I never would have thought that when I started here I'd be a part of something so grand and so impactful to this campus."