ArtsCore partnership receives extension

One cannot pour from an empty watering can, and seeds will not sprout if not watered properly.
This is the problem ArtsCore, an initiative providing additional training and support to early-career educators through arts-integration efforts, aims to tackle at its source.
Educators must be given effective training, development, and tools for working with students. Otherwise, teachers will continue leaving the profession, and the well-spring will run dry, burdening students.
The Oshkosh Area School District recently received a $675,000 grant, extending the ArtsCore program for three more years.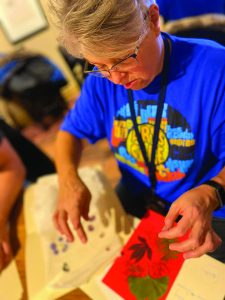 The Margaret A. Cargill Philanthropies grant will support ArtsCore, a partnership established in 2015 between the OASD, UW Oshkosh and the Paine Art Center with the goal of improving teacher efficacy, retaining educators and honing a new approach to education.
The grant will allow OASD to expand their current program implementing ArtsCore, and increase teacher participation — something OASD hopes will keep teachers in the district and profession. According to Julie Conrad, OASD director of curriculum and assessment, new teachers are likely to seek new employment avenues within five years if they go unsupported in the classroom.
"The ArtsCore program allows us to not only positively impact our recruitment and retention rates, but also support our educators in an incredibly meaningful way that leads to excitement and engagement in the classroom," Conrad said in an OASD press release. "As a district, we know that putting students first means we need competent and confident adults working with students."
"They're leaving the field within their first five years of teaching," Donna Nelson, director of ArtsCore, said. "What our grant is focusing on is to increase or promote more individuals going into the field of teaching, and then staying in the field of teaching beyond the first five years."
All of the ArtsCore professional development initiatives surround using arts-integration as an approach to teaching. They start by recruiting high school students who may be interested in careers in teaching and promoting UWO and ArtsCore. When students are at Oshkosh, they provide professional development and networking opportunities for using arts-integration.
Many teachers don't feel supported in their classrooms, and that can be very isolating, driving them to leave the profession all together. ArtsCore aims to alleviate this by providing exceptional training and support during the educators' early years.
"When we do collect the data on how this affects the teachers and how it impacts their teaching, they tell us that it increases student engagement in the classroom," Nelson said. "Therefore, in turn, it helps them with classroom management and the productivity of the students that are learning through arts integration."