Catch-a-Ride seeks volunteer drivers
After helping workers get to their jobs more than 1,000 times in 2019, the Winnebago County Catch-a-Ride Program is seeking more drivers to help fill gaps in transportation and reduce employment barriers.
Currently the program only has seven active drivers, causing new rider applicants to be placed on a waitlist, according to Greater Oshkosh Economic Development Corp. President and CEO Jason White.
In early January, GO-EDC received a grant from the Basic Needs Giving Partnership, a collaboration between the U.S. Venture Fund and other organizations aimed at eliminating poverty. White said the grant funds will extend the program for another three years and fund a workforce facilitator position to recruit drivers.
He added the new position will support the program by recruiting drivers, employers and riders, as well as by coordinating between GO-EDC and its partners in the program.
"We're really excited about this," White said. "This could be a real success story about how a midsized metropolitan city can create partnerships to boost workforce development and enhance the quality of life and income prospects of people that want to work."
Currently, riders pay 25 cents a mile for car service, while drivers are reimbursed at the rate of 58 cents a mile.
The need to fill transportation gaps became apparent to White shortly after GO-EDC's inception, when human resource managers began telling him they had open positions that couldn't be filled because qualified candidates lacked reliable transportation to and from work.
In Winnebago County, 81% of job seekers report transportation as a significant challenge, according to Feonix Mobility Rising, a nonprofit that aims to enhance transportation options for underserved communities.
"If an individual relies on the bus and they work second or third shift and that bus ends, they don't have transportation home," outreach specialist Allison Knautz said in a video on Feonix Mobility's website. "Transportation can be very tricky if you don't have your own car."
White said some people don't have a vehicle or have an unreliable vehicle, some get off work after city buses stop running and others don't live or work near a bus stop.
Companies like Uber, Lyft and taxi operators are often too expensive and can cause financial stress for entry-level workers without reliable transportation, he added.
In 2018, GO-EDC was approached by the East Central Wisconsin Regional Planning Commission to address gaps in transportation. Shortly after, White realized that GO-EDC needed help organizing drivers and riders, so it partnered with Make the Ride Happen, a program of Lutheran Social Services, and Feonix Mobility Rising.
GO-EDC then applied for, and received, the Department of Workforce Development's Commute to Careers grant, which White said covers part of the 58 cents per mile reimbursement drivers receive, and reduces fees for riders to 25 cents per mile.
He added that Commute to Careers grant funds are also being used to increase the capacity of the program beyond volunteer drivers by subsidizing the cost of cab fares and partnering with Lyft to decrease ride costs.
The program officially launched and began recording rides in 2019, providing a total of 1,048 rides for employment purposes from Jan. 14 to Nov. 17, according to GO-EDC.
Deb Martin has been a volunteer driver for the program since March and gives rides for about two hours a week. She said the program is flexible, allowing drivers to provide rides around their schedules.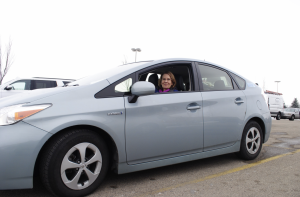 "I can go in and pick out rides that fit," Martin said. "You can really build it based on your schedule."
Beyond the flexible schedule, Martin said driving for Catch-a-Ride has been rewarding because she's helped disadvantaged people improve their situation.
While volunteering has been rewarding, she added that if the program had more drivers, it could provide more rides and help more people struggling to find reliable transportation.
"I'm not meeting the whole need, but I'm meeting a tiny piece," Martin said. "If we could get more drivers, we could meet more of the need and then a bigger chunk of the population without cars could get to work."
Make the Ride Happen mobility manager Holly Keenan said drivers must be 18 years old or older, have a valid driver's license, operate a reliable vehicle, pass a backroad check and have a desire to help others.
Make the Ride Happen recently got approved for a grant from the Wisconsin Employment Transportation Assistance Program, which Keenan noted will be used to hire a staff member to help coordinate rides.
Overall, she said, volunteering for Catch-a-Ride is a "great way to give back and impact someone's life on a personal level."
On the business side, local manufacturer Lakeside Plastics experienced a lack of workers due to transportation barriers, Lakeside Plastics Human Resources Manager Kelly Leith said in GO-EDC's year in review video.
Leith said the business is a 24-hour operation, which means workers are getting off outside of regular bus hours. She added that the Catch-a-Ride Program provides her employees with safe, reliable and affordable transportation.
"We feel more confident knowing that our employees have reliable and affordable transportation," Leith said.