McNair Scholar alumna combats food insecurity
From outward appearances, Joy Evans, a senior at UW Oshkosh, seems to have it made.
She's a McNair Scholar alumna who is on her way to graduate school, has been recognized as student of the month by the Black Student Union and has repeatedly made the school's honor roll.
But getting to this point has not been a smooth ride. She said there were times when "I was not sure when I was going to eat next, and it made me very anxious."
Some days, Evans considered herself lucky to be able to eat just one meal.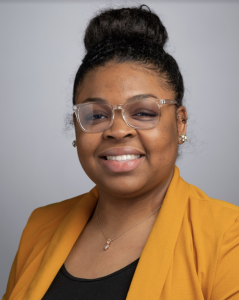 Evans would often have to turn down going out with friends because she didn't want people to know she couldn't afford the food, despite working two jobs.
"I had a tendency to distance myself from others, and I couldn't concentrate in class as much as I wanted to," Evans said.
Approximately 32% of all UW Oshkosh students and 50% of all students of color reported experiencing food insecurity in the past 12 months.
Food insecurity can impact students' ability to focus and succeed in school and can influence many other health factors that contribute to acute and chronic preventable diseases.
In addition, current research indicates a link between experiences of food insecurity and the incidence and severity of depression and anxiety among many populations, including college students.
In order to help combat this issue, Evans used her McNair research on food insecurity among racially minoritized college students to open a food pantry in Reeve Memorial Union.
After completing her research for the McNair Scholars program, Evans was asked to be the director of the food pantry, which opened earlier this semester.
"I made a lot of findings regarding food insecurity at this institution and how much it is truly affecting students of color," Evans said. "I also found that the majority of students who were food insecure were first and second year students who lived on campus."
McNair Scholars program director, Cordelia Bowlus, said Evan's research helped identify food insecurity as a major concern among college students, prompting the university to start finding solutions.
"Having the pantry in Reeve, which is frequented by virtually all students, is critical if we are to reach students in need as well as raise awareness among the campus community as a whole that students are not immune to food insecurity," Bowlus said. "Through her research, Joy has become an informed and articulate advocate of the critical need to address food insecurity at the college level, a skill that will serve her well as she prepares to pursue a master's and career in the field of public health."
Evans said students living on campus are more likely to be food insecure.
"These are students that have to have meal plans, per campus policy," Evans said. "This goes against the stigma that students are automatically protected from stressors such as food insecurity since they live on campus and have access to so many resources."
Besides influencing an on-campus food pantry, Evans was on the honor roll two semesters in a row last school year and was honored as the student of the month in the Black Student Union.
"I remained very disciplined and removed a lot of distractions in my life," Evans said. "I finally found what I was passionate about and I began to learn what I was called to do, which helped motivate me to achieve everything I accomplished."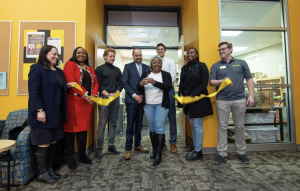 Evans had to overcome multiple obstacles in making these achievements.
"Juggling McNair and working was very challenging," Evans said. "Starting off this school year with three jobs and being president of a student organization became stressful very quickly. Being a black woman on this campus trying to make a difference comes with a lot of stress and difficulties."
After graduation, Evans plans to start graduate school in fall 2020.
"I want to expand my research and try to complete it on a much larger scale as a thesis project in grad school," Evans said. "Overall, I want to work in minority health and health promotion in some capacity to improve the overall health of minorities and reduce the risk of chronic illnesses."
UWO health promotion assistant director, Juliana Kahrs, said Evans has served as a Peer Health Advocate in the residence halls for three years, providing residents with consistent health education and resources.
"Joy understands that optimal health is not only a function of genetics, a healthy environment and sufficient medical care, but of knowledge, opportunity and practice," Kahrs said. "She has a passion for public health education and research, and we need people like her serving the next generation."
Kahrs said she is inspired by Evans' ability to advocate for the issue of food insecurity.
"Completing a comprehensive research project is a significant achievement, but Joy has gone a step further," Kahrs said. "She used this research to help OSA support the need for a campus food pantry and now serves as the director of the food pantry that will officially open next semester. Although it won't alleviate all food insecurity, providing this resource for students is an incredible step forward."