New Beginnings: John and Joann Cross look back after 40 years at UW Oshkosh
When John and Joann Cross met at a party in 1974, they never imagined that what began as a budding friendship would blossom into a healthy marriage and a four-decade career in academia.
Before they retired from UW Oshkosh on Jan. 31, the couple witnessed a transformation on campus as shrinking budgets reduced the number of faculty and technology became more prevalent in the classroom.
When John and Joann met, they were both attending graduate school and living in the same building on the University of Illinois Urbana-Champaign campus. John was studying geography and Joann was studying accounting.
After their fateful meeting in January 1974, the duo would regularly meet around the campus for coffee, meals or just to enjoy each other's company.
"When you're in graduate school, the best you can handle for dating is a 15-cent cup of hot chocolate at Hardee's," Joann said. "We'd get together in the evening and we'd talk after 10 p.m. for a half hour or so."
Over the next three years their friendship grew into something more, and the couple married in December, 1977.
John graduated from graduate school in 1979, and shortly after began teaching at UW Oshkosh. At the time, John said geography jobs weren't as high in demand as accounting jobs, which is why they planned to move to wherever he could find work.
Joann was teaching at the University of Cincinnati at the time, and would routinely fly from Cincinnati to Oshkosh to visit.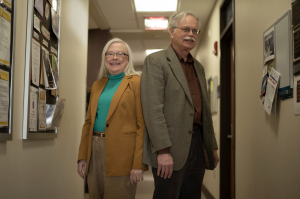 "I flew from Cincinnati to Dayton, to Milwaukee to Oshkosh," Joann said, adding that Wittman Regional Airport was a commercial airport at the time.
In 1980, Joann began teaching accounting at UWO. At the time, Sage Hall did not exist, and the geography department was in the section of Halsey Science Center that was not air conditioned.
During the summer, John said the offices facing the sun were not habitable, and most of the faculty checked their mail late at night to avoid the heat.
"I left thermometers occasionally on the desk and mid-90s were common temperatures inside that building," he said.
Faculty members were much closer in the 1980s. John said the geography department, in particular, was a "very harmonious, very supportive department."
In fact, when John and Joann had their son in the mid 80s, all of their baby furniture was handed down from faculty members in the geography department.
"We all supported each other in multiple ways," John said. "We supported each other with advice, and discussion of what would be best approaches to scholarship."
Experiencing budget cuts
Over the last 10 to 15 years, John said the geography department has been "whittled down" by a consistently shrinking budget and early retirements.
Joann said the university had more faculty members when the couple began teaching, and that budget cuts have systematically reduced faculty numbers.
"When you've got a budget that's 90% people and you've got to cut 10% each year, you're going to cut the people," she said. "There's no more supplies to cut; I've been buying my own paper and my own printer cartridges for my printer for the last three years."
Even with staff reductions, John added that research expectations have increased in recent years.
"We've had an increase in teaching over the last several years," he said. "For those individuals who are newcomers, they're faced with higher research expectations than we did 40 years ago."
Technology in the classroom
Beside budget constraints and increased research expectations, the duo has also witnessed technology becoming more prevalent in the classroom.
When they began teaching, there were no Powerpoints with notes, nor laptops or smartphones in class.
John showed geography classes maps that he would pull down from above the whiteboard, or he would display transparencies with a classroom projector.
Rather than use a laser pointer to point things out on a map, he would use a long pole.
Joann said chalkboards were more widely used when she began teaching. She described her clothes as being littered with white spots from chalk dust at the end of a day of teaching.
"I always liked to wear dark clothing at that time and I would end up with white spots all over," she said.
The rewards of teaching
Beyond technological advancements, the couple said seeing their students grow into professionals has been the most rewarding aspect of their four decades at UWO.
John has seen some of his students go on to become geography professors at other universities, while Joann has seen students go on to become chief financial officers at large companies.
"That always gives you a huge amount of satisfaction, to see somebody who you saw as an undergraduate who has gone on to graduate school and done great things," John said.
Joann has cherished the opportunity to educate and build relationships with students.
"It's all about people," she said. "Without relationships with people in a variety of roles, you're just a talking head."
Embracing retirement
Through all of the changes, Joann and John have been together and supported each other through thick and thin. They've reviewed each other's academic papers, they've vented about frustrations and they've enjoyed making Oshkosh their home.
"At our retirement party, we had friends from all different parts of the university and the city," Joann said, reflecting on the many relationships they've built since coming to Oshkosh 40 years ago.
Their contributions to the university have not gone unnoticed. Barbara Rau, Dean of the College of Business, said Joann has been dedicated to continually improving the accounting department at UWO through both teaching and advising.
"Dr. Cross made lasting connections with many students," Rau said in a written statement. "It is a common occurrence when I run into an accounting alum, to be asked if Dr. Cross is still teaching, followed by a comment about her positive influence on their lives, her dedication to the profession, and how much she cared about the students."
Provost and Vice Chancellor of Academic Affairs John Koker said John mentored him when he was a new department chair, and then offered support and guidance when Koker became dean of the College of Letters and Science.
"I will always remember the times we worked together, and I am thankful for having the chance to be his colleague," Koker said in a written statement.
A new beginning
In retirement, John said he plans to finish a book about the geography of Wisconsin and Joann is taking an online class, as well as contributing to various nonprofit organizations. While they may be done teaching at UWO, they have been given emeritus status, meaning they will retain their offices and campus emails.
"I think we'll keep busy," Joann said. "After we retired, we took a week off and went to South Carolina and Georgia, but other than that we've been here."