Winnebago County aims to expand access to high-speed internet
The Winnebago County Industrial Development Board voted last month to enter a public-private partnership that aims to expand broadband access in rural communities.
The partnership with US Internet, a Minnesota-based telecommunications company, has the potential to benefit the dairy and tourism industries and is contingent upon the company being awarded a broadband extension grant from the Public Service Commission of Wisconsin.
In September 2019, the PSC announced that it would provide $24 million in grant funding to increase high-speed internet access to areas deemed unserved or underserved.
US Internet applied for an approximately $3.7 million broadband extension grant in December 2019 to deploy an active fiber network to Omro, Poygan, Winneconne and Butte des Morts.
The grant funds will account for 36.75% of the project costs, as the total cost of the project is about $10.16 million, according to the grant application.
The application says US Internet will fund roughly $6.4 million, Winnebago County will fund $25,000, the town of Omro will fund $2,680, the town of Poygan will fund $1,480, the village of Winneconne will fund $1,000 and the town of Winneconne will fund $1,000.
The funds would be used for the first phase of US Internet's "Light the Lake" project, which the application states will deploy 140 miles of new fiber optic cable to 806 unserved homes and businesses and 3,078 underserved homes and businesses.
If the grant is approved, the application says the company will commit to building phase two, which will provide another mile of infrastructure to an additional 1,456 underserved homes and businesses.
In total, the project would serve 5,418 unserved or underserved locations, according to US Internet.
Phase one of the project will begin when the grant is approved and is expected to be completed after 24 months, the application stated.
The first two months will consist of engineering and environmental work. Months two through four will be spent on permitting and material ordering, while months five through 23 will focus on mainline construction, customer acquisition and activation.
US Internet's Wisconsin Operations Manager Dan Kesselmayer said there were about 140 applications for broadband expansion grants submitted around the state, and of those applications, only about 40 meet all the criteria to receive money.
Of the applications meeting the criteria, Kesselmayer said US Internet has one of the strongest because its project would serve "five to 10 times more people" than other applicants.
The company will feed fiber optic strands through pipes underground, which Kesselmayer said will limit reconstruction and create lasting infrastructure.
The grant application says the fiber optic infrastructure will far exceed the demands of customers, building a network set up for future generations.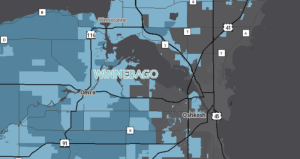 "We're putting infrastructure in the ground to be able to turn these towns into 5G networks," Kesselmayer said.
County Executive Mark Harris said reduced access to high-speed internet hampers business in rural areas. For example, he said dairy farms have to file payroll taxes online, and many have a difficult time because they don't have access to high-speed internet.
Some farmers even have to drive to a location with Wi-Fi to submit payroll because they don't have access to the internet on their farms, he added.
"It would help business all over the county if we could extend Wi-Fi further," Harris said.
Beyond helping farmers, the grant application says current internet speeds hurt tourism in the lakeshore towns of Poygan, Winneconne and Omro, as visitors cut their stays short because they can't work remotely.
Aside from boosting tourism, the application added that US Internet would hire and train 15-20 new staff members for fiber optic technician positions in Wisconsin.
"We want to hire local people because we want to be able to train those local people for high paying future-proof jobs," Kesselmayer said. "We want to be able to pay a good wage to anybody in the area who's willing to learn."
The company would send local employees to fiber optic technician training, where they could learn a trade that will "be around for a long time and offer a lot of flexibility," Kesselmayer added.
Art Rathjen, Greater Oshkosh Economic Development Corp. director of strategic initiatives, attended meetings between US Internet and the townships that would benefit from the grant's approval, finding that "everybody agrees they could use better internet services."
While Oshkosh is one of the communities with faster internet speeds in the state, Rathjen said there's a void in nearby rural communities. He added that rural communities are home to businesses and professional services that have the same internet needs as those in cities.
"Internet is your fourth utility, and 20 years from now, no one will see it as any different than water, electric or sewage," he said.
Kesselmayer said the Public Service Commission will livestream their discussion about how broadband expansion funds will be dispersed on March 5. By March 6, he hopes to know whether or not US Internet received a grant.