UW Oshkosh Career Closet offers professional attire
"The Student Success Center recognized that students' budgets may not leave room for unexpected situations.
They created the Career Closet to assist students who might not otherwise have disposable income to update their wardrobes to fit into professional settings.
Between tuition payments, rent, food and entertainment, students may be strapped for cash. This makes it difficult to come up with extra money for the unexpected, including professional clothes for last-minute internship and job interviews.
Chelsy Cegielski, a career adviser in the SSC, said that the Career Closet started in 2013 as the result of feedback they received from some of their employer sponsors who invest in the professional development of students.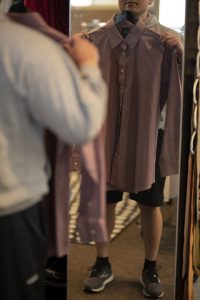 "They were telling us prior to 2013 that students were prepared well with resumes, cover letters, for interviewing appropriately, but their dress was less than to be expected," Cegielski said. "So we'd hold students accountable to that and they'd say, well, 'We don't have money for that,' or 'We're poor college students,' and so we figured there has to be a resource that is going to help students."
The Career Closet offers a variety of styles and levels of professional dress, including full suits, sport coats, business-casual attire and even scrubs.
"On average, we donate about 1,500 items each semester in donated clothes that the students are taking," Cegielski proudly said.
Looking at the Career Closet, a small section of the SSC, you wouldn't expect this to be the case.
This is a true testament to the large number of students who take advantage of the Career Closet, each taking up to four items per semester.
Cegielski said that they see 700 unique students stopping into the Career Closet in a single semester.
To those students who do not regularly take advantage of the Career Closet, Cegielski said that the benefits in the long-term are worth it.
"We work with students to have an understanding of what the professional dress wardrobe is going to be.
If you take four items each semester from your freshman year to your senior year, that's quite the professional wardrobe that you would have," Cegielski said.
A common misconception that students come into the Career Closet with is that the items are for rent, not to own.
"The items are yours to keep," Cegielski said.
This allows students to build the professional dress collection that Cegielski thinks is imperative.
The items come in all shapes, sizes and styles. Because of the number of different partners, there is something for everyone.
Not only do companies donate to the closet, but staff and alumni, who the closet may have helped in the past, donate as well.
For those who would like to donate to the Career Closet, there are donation stations in the College of Business as well as the SSC.
The SSC asks that the items donated are clean, show minimal wear and have been purchased within the last five years. Students can come to the SSC any time during their open hours to take advantage of the Career Closet resource.
Cegielski said that in terms of professional development, clothing is an important aspect, but it is just a small part of a much bigger goal.
"Just like students come to our office for clothing, they should also know that they should come to our office for LinkedIn and for resumes, I mean all of that.
To their clothing, to their documents, to their presence. That's all part of who they are to get a position," Cegielski said."