What happens when you get caught with a fake ID in Oshkosh?
Although it's illegal, people younger than 21 years old drink 11% of all the alcohol consumed in the U.S., according to the National Council on Alcoholism and Drug Dependence.
Owner of Molly McGuire's bar, Tom Taggart, said his bar sees anywhere between 10 to 30 fake IDs in a night.
"A lot of them we know are mail order," Taggart said. "It even gets down to as crazy as the bouncers will know the person on the ID and know it's not the person using it."
According to the Center for Alcohol Policy, fake IDs come in many forms, including borrowed or stolen real IDs, newly created fake IDs and altered real IDs.
Borrowed and stolen real IDs are among the most common fakes used, but scanners won't catch this kind of fake, because it's a real, government-issued ID.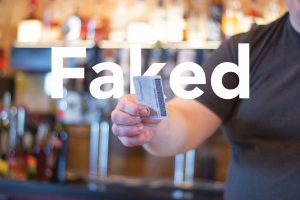 "This is one reason trained gatekeepers are critical to the ID checking process," the Center for Alcohol Policy website said. "Human gatekeepers can not only see and feel security features, but they can observe and assess behavioral nuances often associated with the use of a fake ID."
Taggart said they have books, an ID scanner and online resources that help them determine whether an ID is fake.
"Now you can go online and it'll tell you in two seconds what a proper ID for that state should look like," Taggart said. "Usually when they're from out of state, that's the first dead giveaway."
Taggart said if someone gets caught using a fake ID they will confiscate it and save it for the police.
"We tell them that if they want to call the police, that's fine," Taggart said. "I mean, let's face it, everybody has a cell phone, so we tell them if they want to call they can call, and a lot of them say 'OK, we're going to leave and go call them' but obviously they never do."
Molly McGuire's also has signs posted in the bar warning against the use of fake IDs.
"When somebody walks in the door, there's a sign hanging up that says 'If you're going to use a fake ID, we will confiscate it," Taggart said. "Now Tavern League supplies us with the signs and they also give advice on how to handle it."
Bartender at Kelly's Bar Steph Rammer said the bar typically sees at least 15 fake IDs on weekend nights.
"When it's busy, the bouncers are IDing before people get into the bar," Rammer said. "So, we tell the bartenders and bouncers that if you see a fake ID, you're supposed to take it and that's pretty much what we do."
Kate Mann, Oshkosh Police Department public information officer, said people using a fake ID might be issued some citations or be charged with a crime, depending on the circumstances of the incident and how the identification was used.
"If they present it to the police and they state that is their information and it is the wrong name, age, etc., they could be charged with obstructing, a state charge or citation for $295," Mann said. "They could possibly receive a citation for Carry Card Not Legally Issued for $421, Knowingly Carries False ID Card for $421 or Misrepresent Age for Entry/Service for $484."
Taggart advises against the use of fake IDs in order to obtain alcohol.
"Everybody else has to wait, you have to wait, too," Taggart said.