UW Oshkosh alum and Axios co-founder interviews Trump Jr.
Axios co-founder and UW Oshkosh alumnus Jim VandeHei returned to a spot he frequented in his "younger days" last Friday, but this time he was without his drinking buddies.
VandeHei and Donald Trump Jr. sat down for an interview in Oblio's Lounge in front of a crowd of Republican voters that aired on "Axios on HBO" Sunday.
In an interview with The Advance-Titan, VandeHei said he wanted to do the interview in Oshkosh because Winnebago County voted for Barack Obama twice before voting for Donald Trump in 2016.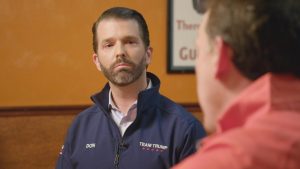 He added that many HBO viewers live on the coasts and may not have been exposed to Trump voters before.
Axios worked with the local Republican Party offices to fill the room with Trump supporters because VandeHei wanted to interact with them on camera.
"The ability to bring them in and show how much they believe in Trump, even more that they believe that the Republican party I thought would be powerful," Vandehei said. "I was surprised, the crowd was nicer to me than I anticipated."
During the interview, VandeHei questioned Trump Jr. about saying Democrats hope coronavirus kills millions of people so it will end his father's presidency. Trump Jr. replied that he's "entitled to speak with hyperbole."
VandeHei thinks there's too much hyperbole in political speech nowadays and that social media often brings out the worst in people.
"I don't know that the world needs more hyperbole right now," he said. "It probably needs a little more sanity, a little more balance, a little more fairness."
In the television interview, Trump Jr. also said he would be willing to publicly debate former Vice President Joe Biden's son, Hunter Biden, and that he'd invite VandeHei to moderate.
VandeHei said he doubts that Hunter Biden would ever agree to such a debate but that he's open to moderating it.
He added that it's not the most important topic facing the country right now and that both men have questions to answer regarding profiting off their parents.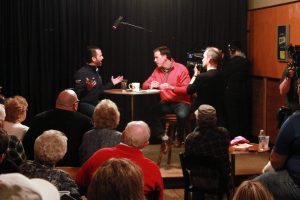 "It's not an inconsequential topic, though, about how much money families make off of their parents when they're in positions of power," VandeHei said.
HBO viewers only got a small taste of the interview, as the one on TV was only 10 minutes, whereas the one inside Oblio's was about an hour. VandeHei described it as "feisty" and at times "contentious."
"When I got off stage and talked to people, I thought that almost everyone said they thought it was fair," VendeHei said.