UW Oshkosh Women's Center not just for females
While the UW Oshkosh Women's Center may be hidden inside the Campus Center for Equity and Diversity, the work they do to offer support and resources to students of all genders is a prevalent part of campus culture.
The Women's Center opened its doors in 2004 to address concerns from the UW System Status of Women report.
The UW System Initiative on the Status of Women was created to evaluate the status of women on UW campuses and to establish an organization to improve the status of those women, the University of Wisconsin website states.
According to Alicia Johnson, the director of the Women's Center, the goal of the UW Oshkosh Women's Center is to "work with both students and staff to address different gender equity issues on campus."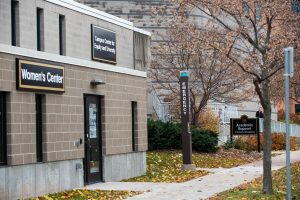 Notice how Johnson didn't specify just women in their goal. While it may be called the Women's Center, embedded in their philosophy is the inclusion of all genders to reach their goal of gender equity.
"One main misconception is that our work doesn't benefit men or that we don't engage men, which we do," Johnson said. "For us, we center intersectionality in everything that we do and we value engaging different perspectives."
Individuals of all genders are welcome to join in the discussion of gender equity, and one way the Women's Center strives to include men and masculine-identifying students in their work is through Masculinity Mondays.
During Masculinity Mondays, students "talk about masculinity and how to promote healthy masculinity as a way to reach gender equity," Johnson said.
Another event hosted by the Women's Center and Reeve Memorial Union is the annual Titan LeadHERship Conference, which addresses the gap in leadership and empowers women to pursue leadership positions in their area of interest.
"We started by focusing on students in what's considered 'pink-collared' majors," Johnson said. "Majors like nursing and education, social work and human service, because the research shows that even though women are the majority workforce in those fields, men still hold the leadership positions."
Braini McKenzie, Titan Femtorship and LeadHERship coordinator, enjoys the photo exhibit that is part of the LeadHERship conference because it gives us insight into the women around campus that we may not see all the time.
"The photo exhibit was to highlight and uplift women-identified leaders on campus" Johnson states.
On top of the programs the Women's Center offers, they also provide plenty of resources to students in their office.
Some of these resources include a computer lab, a craft corner, a lactation room, two all-gender bathrooms with changing tables, free menstrual hygiene products, free safer sex supplies, beverages and information about other community and campus resources.
McKenzie encourages students to get involved by coming by to check out the Women's Center and using their resources, such as the PlayStation 4 and games they have.
For her, as a senior at UWO, being a part of the Women's Center has given her a chance to develop her character and gain insight into a larger community.
"To me, it's being a part of a community that's even bigger than I imagined it would be," McKenzie said.
Johnson wants students to know that anyone is welcome at the Women's Center who wishes to engage in judgment-free open dialogue to explore different viewpoints.
"It's our philosophy that everyone needs to be at the table in order to reach gender equity," Johnson said.