Leavitt: 'This is all about social distancing'
UW Oshkosh Chancellor Andrew Leavitt said the university has the infrastructure in place to move classes online and that work areas will be set up on campus for students who can't go home after March 13.
At a press conference this afternoon, Leavitt  said the majority of classes should move online easily, but hands-on classes and labs will be much harder to move.
"About 80% of our classes will move quite nicely cause there's already a lot of hybrid teaching going on," he said. "We have some classes that just have no online analog and we're going to have to work on those to figure out how to deliver them."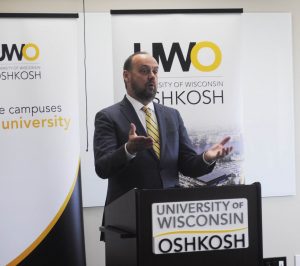 For students without internet access, Leavitt says the university will remain open and areas will be set up for students to work without congregating.
"This is all about social distancing," Leavitt said. "We want to put as much distance as we can between individuals."
The university is considering consolidating students remaining on campus into a single residence hall for hygiene purposes, he said.
Leavitt added that even university officials will no longer be meeting face-to-face for the foreseeable future, opting to meet digitally until coronavirus fears subside.
The decision of when to return to face-to-face instruction will depend on the Winnebago County Health Department, he said.
"They're monitoring the situation as the number of cases pick up in the county," he said. "They really are going to be the people who kind of take this over in terms of giving an all clear."
Leavitt said communications to students will continue until the outbreak passes and that updates can be found on the university website as they happen.
This morning's email announcing that the university will move classes online after March 30 was the first of a series of communications, he added.
"We knew that if we were to jam it all into one message, it's going to get lost," Leavitt said. "So we really wanted to put just the essential things in the first message and then you're going to see a series of communications roll out."