160 businesses attend Career Fair on the Fox at UW Oshkosh
Earlier this month, UW Oshkosh hosted the Career Fair on the Fox, one of the largest job search events in the Fox Valley with nearly 160 businesses attending.
Career Adviser Chelsy Cegielski said that most businesses at this event were filling positions for summer help.
"When we look at employers who come to a college career fair and are recruiting college talent for the summer, a lot of what they do in the spring career fair is look for last-minute summer internships and jobs," she said.
"This is name recognition. This is branding for the employers. A few positions might still be available, but by and large, fall is where you're going to see the positions posted."
Cegielski said the UWO career fairs are open to everyone, but employers, in general, are looking for students who are not only professional, but who also have solid communication skills.
"The reality is when we look at skills, they want individuals who have strong attention to detail, strong communication skills [and who can] take initiative," she said. "Part of coming to a career fair is taking that initiative."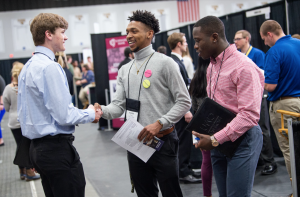 She said new employers always attend the UWO career fairs, which are held each spring and fall.
"It's always interesting when I look at this list; there's probably 25 [employers] at least that I've never seen here," Cegielski said before the March 4 event. "We always bring in that new cycle of employers that are looking for talent. That's a win-win for everybody."
In conjunction with the Career and Professional Development Department on campus, UW Oshkosh holds numerous events during the school year inviting businesses to connect with the school's students.
With the university campuses closed this week due to the coronavirus and courses being delivered through alternative methods beginning on March 30, it isn't too late for students who still need help finding summer jobs or internships.
Chrissy Lambie, Career and Professional Development marketing manager, said some advisers will be available in person, but all advisers will have some availability to meet with students via phone or video chat.
"When a student schedules an appointment in Handshake they will need to indicate how they would like to connect with the adviser and provide the details for us to reach them," she said. "Appointment blocks in Handshake will indicate if an adviser is only available for phone or video appointments."
Lambie said resumes submitted to Vmock and Handshake will continue to be reviewed, and Career and Professional Development will also review for resumes or LinkedIn profiles virtually.
The Career Closet will still be available as long as the office is still open, she said.
"Advisers will all be available via email if students have any questions or concerns," Lambie said. "They are also working with faculty to provide resources or recorded presentations where class visits had been scheduled."
The Career and Professional Development Department will continue to operate, and students can schedule appointments with advisers by self-scheduling in Handshake or by calling 920-424-2181.