Oshkosh's essential workers keep city running amid health worries
Thousands of workers in Wisconsin are coping with a heightened sense of anxiety as they risk exposure to COVID-19 to provide residents with essential goods and services amid a global pandemic.
Some of the businesses still open include stores selling groceries or medicine, restaurants offering carryout or delivery and others providing the "necessities of life," according to Gov. Tony Evers' Safer at Home order.
Many of the jobs providing necessities such as cashiers, fast food workers and retail workers face an elevated risk for COVID-19 exposure due to their proximity to others. Many of those workers often earn less than the national median income and do not have paid sick leave.
One essential worker is Oshkosh resident Grant Hunter, who works at a local grocery store. He said working during the pandemic is "worrisome" because he's handling money and doesn't know which customers could be carrying the virus without symptoms.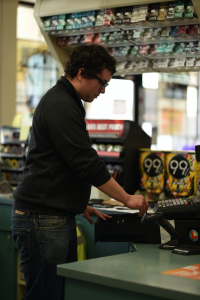 Cashiers are generally face-to-face with customers and are unable to maintain social distance, he said. Recently, his store installed a plexiglass partition between cashiers and customers. Still, he isn't sure how much it helps prevent the virus from spreading.
"It's definitely reassuring to have it there," he said. "The difficult part, though, is encouraging customers to stay in front of it."
Beyond the patitian, Hunter's employer is encouraging workers to utilize personal protective equipment, such as masks and gloves. Hunter also encourages customers to maintain their social distance when waiting in line because some "are not taking it as seriously as they should be."
At the moment, he's trying to limit his interactions outside of work, "totally closing off" from face-to-face interaction with friends and family to prevent spreading the virus.
"It's been weird," Hunter said. "I still connect with people through FaceTime, text messages and Snapchat, [but] that's really the only outside interaction I have."
Another grocery store worker is Nick Wielgosz, who works at a different grocery store in Oshkosh. He said his employer is also encouraging associates to utilize PPE. About half of the customers who come in wear masks, and most wear gloves, Wielgosz said. For the most part, he says customers have been friendly and appreciative of the workers.
"People appreciate the fact that we are all in this together, and there's not much we can do," he said.
Wielgosz isn't too worried about his safety, but he is concerned that he may bring the virus home because he lives with his parents.
"My mom is in her 50s, so I'm obviously concerned about her getting it," he said. "But especially my stepdad, he's borderline diabetic, and he's over 60. So, when he gets sick, even if it's a little bug or something, he usually gets very sick for a few days."
Fast-food workers have also been deemed essential under the Safer at Home order. For a 21-year-old male at an Oshkosh fast-food restaurant that means he needs to continue to make food, watch labor costs and wipe down the facility.
The restaurant he works at has taken precautions, such as placing plexiglass barriers over part of the drive-thru windows. But he said it isn't enough to ensure safety and prevent the spread of COVID-19.
"I feel like the best way to prevent it all would be no exposure at all," he said. "I just feel like, with the amount of contact you have with people there, someone's going to end up catching it."
If a worker contracts the virus, he said the company would send them home for two weeks without pay. Despite his worries, and the lack of compensation if he were to contract the virus, he said that he needs to continue working throughout the pandemic.
"I mean, I still have to pay my bills," he said.
Beyond fast-food workers, many gas stations and convenience stores have remained open as well. Oshkosh resident Emily Togstad works for a local convenience store as a cashier.
Togstad said she's worried about the virus, but she "can't come to work every day afraid of coming to work."
"You don't want to seem scared or scare the guests because they're just trying to get their stuff and get out of there," she said. "Nobody wants to be out and about catching this thing."
Despite nobody wanting to catch the virus, Togstad said some customers don't appear to be taking it seriously enough, but that the majority are friendly and appreciative.
"I always appreciate the customers that come up and are very understanding since all this happened," she said.
Because she works with the public and her boyfriend works in a nursing home, Togstad hasn't been able to see him in weeks. She hasn't been able to visit her grandmother either, out of fear of possibly carrying the virus.
"It's a real bummer that I am working with the public, and I can't see the people that I do want to see," Togstad said. "But I'm taking the best precautions that I can to keep everybody safe."
One worker coping during the pandemic is a 19-year-old male who works for a retailer in Oshkosh. He isn't too concerned with contracting COVID-19, but he said the possibility is always in the back of his mind.
He lives at home with his parents, who have been deemed "essential" as well. He said if one of them contracts the virus, everyone at home will.
"It would definitely be more of a concern for me if they didn't work," he said. "It's why we don't see some of our family members more."
Some local department stores have remained open as well. Doug Mittelstaedt works as a stocker at a home improvement store in Oshkosh.
The store he works at has signs on the floor, indicating how far away customers need to be in line to ensure social distance. Mittelstaedt said he doesn't interact with customers too much, but the threat of contracting the virus is always in his mind.
"I was more comfortable working overnights than during the day," he said.
Mittelstaedt added that shopping carts are continuously sprayed with disinfectant between uses, and when the store closes at night, workers thoroughly clean with bleach water. Similar to after 9/11, when airports became more secure, he hopes employers will continue stringent cleaning procedures after the pandemic.
"I think if you close at 10 p.m., you're going to work until like 10:30 p.m. because they're going to have additional cleaning," Mittelstaedt said.
For one 24-year-old female retail worker in Oshkosh, being deemed essential has meant being in close contact with a multitude of people when she cashiers.
She said there are stickers on the ground that tell customers how far away they need to be when waiting in line. But when a customer is at the front of the line getting items scanned, they are only about two to three feet from an employee, she said.
"The six-feet rule definitely does not apply," she said.
During her last shift, she said she had an "eerie feeling" because workers don't wear gloves and aren't allowed to wear masks when they cashier.
"While we're at the cash registers, we're not allowed to wear masks because the guests could fear us, and obviously we don't want that," she said. "But then essentially we're putting our own health at risk to be at work."
She isn't too concerned about her health because she's young and healthy, but she's worried about possibly carrying the virus and spreading it to someone else. Because of those worries, she hasn't seen her parents in nearly a month. She said her parents are in their 60s and avoiding them has been "surreal" because she's exceptionally close to her family.
"Going to work, I'm already putting myself at risk, and I can't go home and take that to them," she said, adding that she still texts her parents every day to stay in contact.
She wants people to take the virus more seriously and stop shopping for non-essential items until it's safe to do so.
"We're not in quarantine because it's all fun and games," she said. "Essential businesses aren't open so you can come hang out when you're bored."