Shortage of semi-truck drivers hits Wisconsin
The transportation of goods and services is crucial to the success of any economy, but one of the most important aspects of the industry is quickly declining.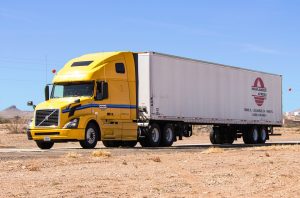 The number of truck drivers, especially over the road truck drivers, is in decline nationwide and its effects are being felt locally.
A 2019 report compiled by the American Trucking Association shows that the number of truck drivers nationwide has dropped each year since they started gathering data in 2005.
Neal Kedzie, president of the Wisconsin Motor Carriers Association, said that some of the reasons for the shortage are that the population of drivers is aging and there are fewer drivers who want to complete long-haul deliveries.
"We are a graying industry unfortunately, with the average age being 46, whereas all other jobs nationwide are 42 years of age," he said. "Our new drivers entering into the field are 35 years old, so these are individuals who have already been through one or two possible careers prior to deciding on trucking."
Kedzie said many older drivers left the industry partially because of new technology that was mandated by the federal government, mainly electronic logs.
He says it's a challenge to keep drivers in the industry because of additional regulations and high standards set by carriers.
In the study, 88% of trucking companies report having enough applicants, but many are simply not qualified.
"Another issue we're dealing with is the quality of the drivers available," he said. "There are enough people willing to do the job, but they often don't have a good driving record."
Kedzie said the legalization of marijuana for recreational use in many states around Wisconsin will be an issue moving forward as well, citing zero tolerance for illegal drugs in Wisconsin.
In addition, the report says that if the numbers remain the same, the industry could be short 160,000 drivers by 2028.
Kedzie says there is great career opportunity in the industry, with currently well over 100,000 positions related to the trucking industry in Wisconsin.
However, a Commercial Drivers Licence, or CDL, is required to drive a semi legally in and out of state.
"Not everyone is destined to a baccalaureate four-year degree," he said, adding that students can get their CDL "relatively inexpensively" through Wisconsin's technical college system.
"I think these opportunities will be made known to individuals in high school and even start talking about these trades earlier than that," he said.
Kedzie added that education is crucial to the revival of truck driving.
"The federal government also wants to have more theory and problem solving taught as part of your CDL requirements because you're dealing with an industry that's responsible for nearly 74% of transporting all goods and services here in the country," he said. "A lot of them are in the businesses that transport chemicals and other toxic materials, and there are huge responsibilities and huge liabilities."