Advance-Titan, staff win Better Newspaper, Best of the Midwest awards
The Advance-Titan and its staff received 17 awards in the Wisconsin Newspaper Association Foundation's Better Newspaper Contest.
The WNAF announced the winners of its 2019 college Better Newspaper Contest Monday. The announcement was delayed from March due to the COVID-19 pandemic and the cancellation of the WNA's Student Honors Luncheon.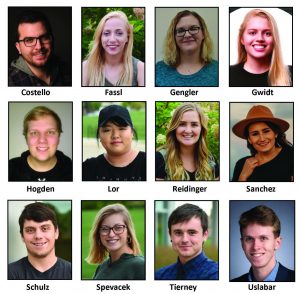 In addition, the UW Oshkosh independent student newspaper took top honors at the Associated Collegiate Press Best of the Midwest competition in February, taking first in publication, third in website and fifth in special edition for its basketball preview.
The Better Newspaper Contest awards included:
First Place; Column Writing; Leo Costello; Decade of Depression.
First Place; Sports Photography; Lydia Sanchez; National Champions.
First Place; Page Design; Leo Costello, Susan Lor; Last-minute Halloween costumes.
First Place; Newspaper Promotion; Staff; Promotional ads – print and website
Second Place; Public Affairs Reporting; Bethanie Gengler; Wisconsin weed laws are half baked.
Second Place; Editorial Writing; Leo Costello; Jaywalking into fines.
Second Place; Column Writing; Bethanie Gengler; Incarceration is no laughing matter.
Second Place; Infographic; Ally Gwidt; Rugby for dummies
Second Place; Page Design; Neal Hogden; A1.
Second Place; Website; Sam Fassl, Lauren Reidinger; Advance-Titan.
Second Place; Advertisement; Tatum Spevacek, Susan Lor; Good luck men's and women's basketball
Third Place; Collegiate Journalist of the Year; Leo Costello.
Third Place; Feature Photography; Carter Uslabar; Cats do downward dog.
Third Place; Infographic; Tatum Spevacek; Intramural by the numbers
Honorable Mention; Arts and Entertainment Story; Jack Tierney; Goodbye to the Puppy Palace.
Honorable Mention; Freedom of Information Award; Joseph Schulz; What's the state of the First Amendment?
Honorable Mention; Advertisement; Tatum Spevacek; Free Studio Headshots
Students of any major can join the Advance-Titan staff. Email if you are interested in reporting, copy editing, photography, graphic design or ad sales next fall.