Why I stayed
Beverly Gooden, a social activist focusing on women's issues and domestic abuse and creator of the #WhyIStayed trend, spoke to students at UW Oshkosh via Collaborate Ultra on September 28th in coordination with the UW Oshkosh Speaker Series Program.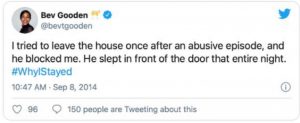 Creator of the #WhyIStayed hashtag on Twitter that received over 200k tweets, Gooden sparked a national movement that had those who had been abused share their stories in the wake of TMZ sharing a story about Ray Rice. Rice, former running back for the Baltimore Ravens, dragged his wife Janay Palmer out of an elevator unconscious after punching her in 2014. (Palmer, who was released by the Ravens on September 8, 2014, was indicted by a grand jury on third-degree aggravated assault).
In response to tweets that Gooden characterized as victim-blaming Palmer, she began with the first tweet of #WhyIStayed.
The #WhyIStayed movement has taken Gooden to the national scene- her writing has appeared in the New York Times, and she's made appearances on networks and shows such as Good Morning America and CNN, among others.
The speech began with Gooden discussing her own experience with domestic abuse, at the hands of her fianceé. She recalled being hit, choked, and at one point thrown out of a moving vehicle. Gooden's first thoughts, however, weren't to escape.
"What did I do to make you hit me?" was her first thought. Victim-blaming was a large focus of Gooden's presentation- the idea that a domestic abuse survivor should've "just left". For Gooden, it wasn't that simple. She cites three main reasons why victims stay with their abusers-dependence, fear, and love.
Gooden feared for her life at points in her relationship-the turning point for her was when one day her boyfriend pushed her out of bed before she woke up. She remembers her thought changing from "What did I do to make you hit me," to "he could kill me."
"I wanted to live more than I wanted to be married to him," she said.
After discussing her own history with domestic abuse, Gooden went into discussing cases of domestic abuse experienced by others-among them, Modern Family star Sarah Hyland, as well as Nadia Ezaldein of the University of Chicago, who was killed in a murder-suicide after she left her old boyfriend, and Alexandra Kogut of the Sydney NYU, who was beaten to death by her boyfriend after an argument. Gooden stressed that most people experience some form of relationship abuse before the age of 25- the age group of many college students.
Gooden also stressed the implications of other aspects of identity on the likelihood of domestic abuse, citing statistics that state that the number one killer of African-American women is homicide by someone they're in a relationship with, and that 2 out of 5 gay men would experience domestic abuse in their lifetime.
After her speech, the event turned to a Q/A session. Students asked questions via the chat feature of Collaborate Ultra, with Gooden responding to their questions on the stream.