Indigenous Peoples' Day honors Native American history

Residents across the country observed Indigenous Peoples' Day on Monday, a holiday that celebrates and honors Native American history and culture.
"Indigenous Peoples' Day is the celebration of the resilience, perseverance and strength of Indigenous peoples' worldwide," Heidi Nicholls, anthropology professor and adviser for the Inter-Tribal Student Council, or ITSC, said. "It is the celebration and honoring of the ancestors that fought to keep our traditions alive, that stood up to those who tried to dismantle Indigenous ways out of fear and ignorance, who reminded us of the beauty and power of our heritage."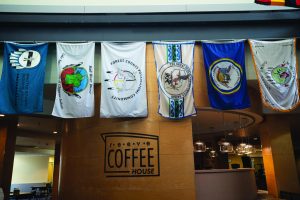 Currently, in the U.S., 17 states — Alabama, Alaska, Hawaii, Idaho, Iowa, Louisiana, Maine, Michigan, Minnesota, New Mexico, North Carolina, Oklahoma, Oregon, South Dakota, Vermont, Virginia and Wisconsin — plus the District of Columbia and more than 130 cities celebrate Indigenous Peoples' Day in addition to or in place of Columbus Day.
"One way for all to heal is to face the facts about our histories head-on — to acknowledge it, to learn from it, to grow from it," Nicholls said. "Indigenous Peoples' Day is one step in this reckoning."
ITSC co-president Elashia Rosado-Cartagena said that this day is beneficial to our country and its citizens because, without Indigenous People, there would be no United States.
"It is important for our country to recognize the history and the knowledge that our people hold," Rosado-Cartagena said. "And in a country that prides itself on being a 'melting pot' of different cultures and peoples, I believe that it is imperative that we are open to the celebration of cultural diversity and take a second to see what other people's realities are."
Activists have long argued that holidays, statues and other memorials to Christopher Columbus have sanitized his actions, including the enslavement of Native Americans, while giving him credit for "discovering" a place where people already lived.
"Every day that I exist is Indigenous Peoples' Day, but this day is for those who do not identify as Indigenous," ITSC co-president Trinaty Caldwell said. "It is important for you to recognize the violent history of these colonial states and recognize that this struggle is ongoing, and to uplift Indigenous peoples' voices."
Nicholls said people can show their support by learning from elders, participating in workshops, engaging in meaningful conversations and attending the various events put on across the country for this day.
"People can support well beyond this day in particular by challenging the curriculum to include an abundance of Indigenous voices, teach the true history of the making of this country, learn what Indigenous people have contributed to agricultural knowledge, governance, STEM fields, meditation, arts and more," Nicholls said. "Dismantle the 'Hollywood Indian,' get rid of Indigenous mascots, do not wear Indigeneity as a Halloween costume, do not mock the songs, dances and prayers, [and] destroy the microaggressions."
Nicholls said that although Indigenous Peoples' Day is only one day, support needs to happen all year long.
"Let not our fear, lack of understanding, steadfast belief in our own ways prevent us from learning in our differences, may we not blind ourselves with one way of knowing but rather see the beauty in our differences," Nicholls said. "May we not shield ourselves with hate and divisive rhetoric rooted in fear, but rather be patient, gentle and kind as our hearts grow in our expanding sense and broadening definition of community."