WI breaks COVID records for cases, deaths
Wisconsin saw 33 new COVID-19 deaths on Tuesday, breaking the state's record for the largest number of deaths in a single day from its previous high of 27 on Sept. 30, according to the state's Department of Health.
The state also reached a new record on Tuesday for the greatest number of confirmed cases of COVID-19 in a single day with 3,279 reported cases, according to the Wisconsin Department of Health Services, or WDHS.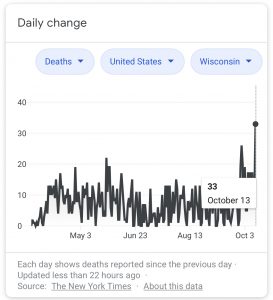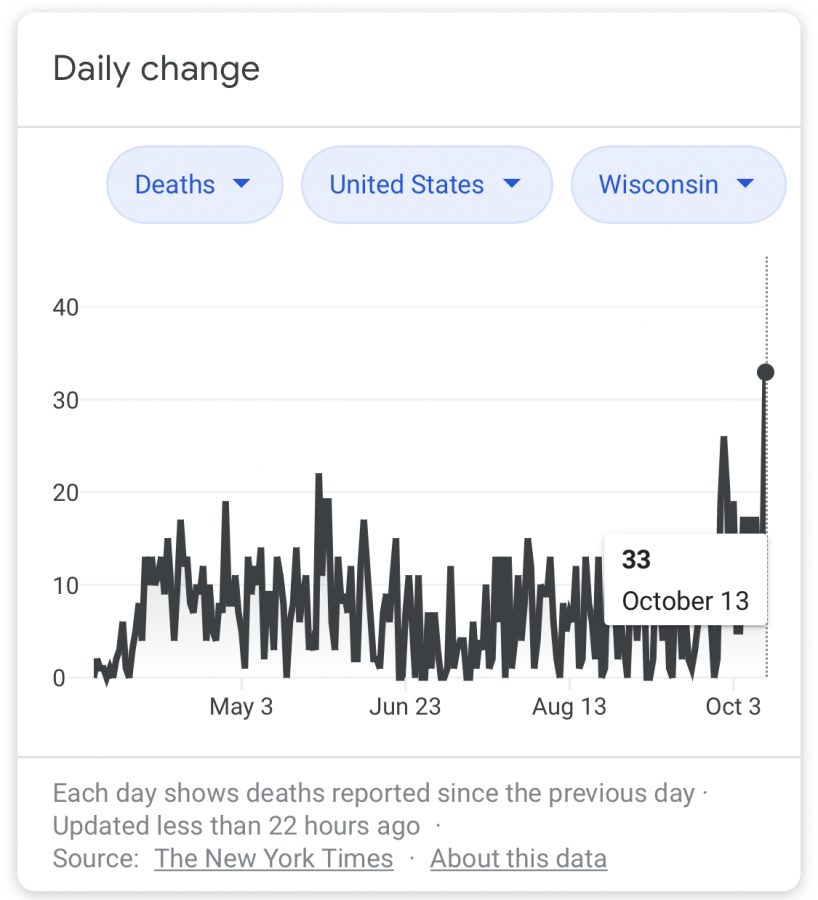 Tuesday's increase in cases surpassed the state's previous single-day record of 3,132 confirmed cases on Oct. 8.
"There isn't a family, worker, business or community that hasn't been affected by the pandemic," Gov. Tony Evers said in a press conference Tuesday.
The state will also open an overflow facility for COVID-19 patients starting Oct. 14 at the State Fair Park in West Allis, Evers said.
"The alternate care facility will start accepting patients … to help alleviate some of the strain on our health care system," he said.
Secretary designee Andrea Palm said in the press conference Tuesday that the facility is prepared to accept 50 patients on its first day and can scale up from there.
"We hope we do not need this overflow [facility], but the reality of this virus, its transmissibility, its incubation time and its potential severity dictates that we get ready," Palm said.
Winnebago County is experiencing an "uncontrolled spread" of COVID-19 and saw 145 newly confirmed cases as of 3 p.m. Tuesday.
The New York Times ranked the Oshkosh-Neenah area as No. 2 in its Top 20 list of U.S.
From page 1
metro areas where cases are rising the fastest as of Oct. 13, with Appleton and Green Bay at Nos. 3 and 4.
"There are thousands of people currently infected with COVID-19 in Winnebago County and thousands more that have been exposed and may develop the disease," the WCHD weekly COVID report said.
The Fox Valley area is also experiencing the highest level of COVID-19 hospitalizations to date, according to WCHD.
As of Oct. 7, Fox Valley area hospitals had 138 COVID-19 patients hospitalized, according to WCHD.
UW Oshkosh reported a low, steady average positivity rate around 3% over the last week with a 3.5% positivity rate on Oct. 12, according to the university's COVID-19 dashboard.
UWO currently has 100 active cases on campus as of Oct. 13, according to the dashboard.
The WCHD recommends people stay home unless it's to gather essential items, go to work or seek medical care.
They also recommend people wear a mask in public indoors, when near others outdoors and to have household members wear a mask if their activities outside the home put them at risk.
Sunnyview Expo Center in Oshkosh is also running a regional COVID-19 testing site available to any Wisconsin resident above the age of 5.
UWO students and employees who have been exposed to the virus or are experiencing symptoms can get tested at Albee Hall by appointment through the MyPrevea app. Appointments are available Monday through Friday from 10 a.m. – 4 p.m.