President Trump holds Make America Great Again rally in Waukesha, Wisconsin
President Trump spoke to thousands at a rally held in Waukesha Saturday, where he said it was his third rally of the day and stated that he was planning to do five more in the coming days.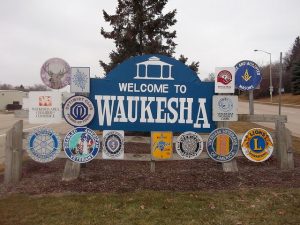 Prior to the event, however, several Wisconsin physicians called for the President to cancel all campaign rallies because of the significant rise in COVID cases throughout the state, according to a press release from the Committee to Protect Medicare. Trump has held three rallies in Wisconsin since Oct. 17, the release noted.
At the event, Trump focused on comparing his own beliefs with a skewed version of those of his opponent, former Vice President Joe Biden.
Trump said, if re-elected, he would support law enforcement, protect the second amendment, defend U.S. borders, keep peace in the Middle East and protect social security and Medicare.
"I gave working-class families record tax cuts," Trump said. "And Sleepy Joe is the only president I've seen that's going to give you the largest tax increase in the history of our country."
However, according to Joe Biden's campaign, his plan "won't ask a single person making under $400,000 per year to pay a penny more in taxes."
Throughout the rally, Trump criticized Biden's alleged support for the Green New Deal, open borders and free healthcare for illegal immigrants.
"You know, we all have a heart, we all wanna take care of people," Trump said. "But when you say we're gonna give you free education, free healthcare, free everything, millions of people are gonna come here even if they weren't thinking about it before and we just can't do that. We wouldn't be a country anymore."
However, Biden has publicly said he does not support the Green New Deal. In fact, his campaign has said Biden supports oil fracking, which has drawn criticism from progressives.
Trump also criticized Biden's views on race, alleging Biden had allied himself with the far left that aims to defund the police.
However, according to the Biden campaign, the former vice president does not want to defund the police. He does want to reform law enforcement, the campaign noted.
"Our criminal justice system cannot be just unless we root out the racial, gender, and income-based disparities in the system," the campaign website said.
Trump also picked on Biden for allegedly reducing foreign policy to "friendships" in the first presidential debate.
"Joe Biden has made a corrupt bargain in exchange for his party's nomination," Trump said. "Other countries would be happy if Biden won."
However, according to the Biden campaign, Biden seeks to work with other democracies in the world to form a coalition to denounce authoritarian nations.
In fact, Biden's climate policy is quite critical of other nations such as China.
"This includes pressuring China—the world's largest emitter of carbon—to stop subsidizing coal exports and outsourcing their pollution to other countries," the website said.
Joe Biden has repeatedly promised that as president, one of his top priorities will be to stop the spread of COVID-19 by increasing testing and enforcing mask mandates.
As soon as COVID-19 became considered a serious threat to the U.S. in early March, many Americans blamed Trump for his failure to act quickly and with greater caution.
At the rally, Trump tried to shift the blame to China and again spoke against virus-related safety measures.
"We gotta get you guys open," Trump said. "But bottom line, we have to be vigilant, we have to be careful… but we also have to get our lives back and take our country back."
"The election is a choice between a Trump super-recovery or a Biden depression," Trump said. "It's a choice between a Trump boom and a Biden lockdown."
However, Biden's campaign noted the former vice president isn't looking to lock down the entire country. Rather, his campaign says, Biden wants to place tougher restrictions on areas seeing spikes, not the entire country.
"Biden believes we must spend whatever it takes, without delay, to meet public health needs and deal with the mounting economic consequences," the website said.
Ultimately, it's up to the voters to decide between the two men.