Wisconsin's record youth voter registration predicted to greatly impact election results
As Wisconsin reaches record numbers of absentee ballot returns, hundreds of thousands of young voters have become registered to vote and are estimated to make up a generous portion of this year's electorate.
According to the Wisconsin Elections Commission, Wisconsin had 3,583,804 active registered voters as of Oct. 1.
As of that date, 318,394 registered voters in Wisconsin were between the ages of 18 and 24, comprising 9% of total registered voters.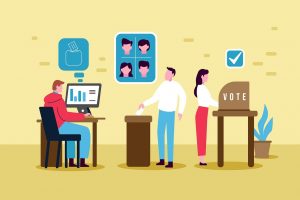 In 2016, Wisconsin had 3,729,682 registered voters and a turnout of 67.34% for the general election between President Trump and Hillary Clinton.
In the 2016 election, 10% of registered voters in Wisconsin, about the same amount as 2020, were between the ages of 18 and 24.
According to Forbes, youth voters have traditionally had low turnout, but numbers have, more recently, been gradually but inconsistently increasing: 45% of 18-29 year olds voted in 2012, 20% in 2014, 46.1% in 2016, and 36% in 2018.
Additionally, 63% of Americans age 18-29 say they will "definitely be voting" in the November election, a new Harvard Youth poll found.
This percentage far exceeds the 47% who said they definitely planned to vote in the 2016 election, 40% who planned to vote in 2018, and 48% who planned to vote in 2012.
Christina Carvalho, state director of political organization NextGen Wisconsin, said that young age groups are voting earlier and at higher rates because they understand what's at stake.
"Young voters will not sit on the sidelines," Carvalho said. "The polling suggests a historic year for youth voter turnout; we know from our conversations with voters that young people are ready to turn out."
Wisconsin has voted Democratic in seven of the last 10 presidential elections, yet narrowly went red in 2016, helping elect Trump to the White House.
Young voters turned out at historic rates for Wisconsin Gov. Tony Evers in 2018, carrying him to his victory.
Recent polling suggests that young voters are flocking to Democratic candidate Joe Biden at an even higher rate than they did for Evers in 2018.
Wisconsin's youngest and most diverse counties, Dane and Milwaukee, comprise over 31% of total votes within the state, which could prove to be detrimental for the Trump administration, NextGen Wisconsin Press Secretary Kade Walker said.
"Young voters' support for Biden is a death sentence for the Trump campaign," Walker said. "In a state like Wisconsin, even a slight uptick in their turnout rate will outweigh any gains Trump makes in rural Wisconsin."
Absentee ballots returned by mail must be received by 8 p.m. Nov. 3, after the Wisconsin Supreme Court voted Monday not to extend the deadline for mailed ballots. That means that ballots postmarked by Nov. 3 but received after that date will not be counted. You can also vote early in person. In Oshkosh, go to the Oshkosh City Clerk's office within City Hall from 8 a.m. to 4:30 p.m. through Oct. 29 and from 8 a.m. to 5 p.m. Oct. 30.