Horizon Village to offer mixed-gendered housing
At UW Oshkosh, there are mixed-gender dorms, and even mixed-gender halls. However, there has never been an instance where an entire residence hall has allowed students of different genders to room together That is, until now.
On Nov. 10, the UWO Department of Residence Life sent out a mass email announcing that Horizon Village's four-bedroom suites will be open-gendered for the 2021-2022 academic year. The email specified that four-bedroom suites are the only ones that will be open-gendered next year, making two-bedroom suites an exclusion for the time being.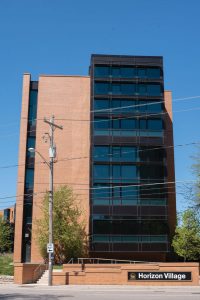 "[The main motivation was] to allow students to live in whatever groupings they felt most comfortable with," Director of Residence Life Robert Babcock said.
This decision gives students a greater amount of options for on-campus living now that gender is no longer considered a barrier for those who are considering spending the $6,980 that it costs for a four-bedroom suite (according to the "Room Rates" tab on the UW Oshkosh website).
This reform in housing requirements received a positive response from the students.
"I think it's good," UWO sophomore Anamay Del Real said. "It gives students an opportunity to be able to room with their closest friends while still being on campus."
Some students have been waiting to see this change happen for a while and they even believe that it could be a step toward more dorms allowing co-ed rooming in the near future in an attempt to allow more friendships to be made.
"Students have been wanting a situation like this for a while now, and the school is trying it. One year to test it out would be a good idea and then the school can go from there," UWO sophomore Carter Knutson said. "[It also] helps students make more friends [when they live] this way by having a mixed group in one facility."
UWO is not the first school to allow people of different genders to be roommates on campus, and the school took other institutions' results into consideration before implementing this change. Among nearby schools that are offering mixed-gendered suites are UW-Madison (2013), UW-La Crosse (2013) and UW-Whitewater, according to campuspride.org.
"Other UW system schools were surveyed about what they offer in their on-campus apartments and/or suites," Babcock said. "At least six other sibling institutions offered something similar to what we're now offering, and there were no negative reports."
Students have confidence that many other students may exercise the option to stay on campus due to this new implementation, but it is a little late for some students who have already signed leases for off-campus properties.
"I will be renting an apartment with my friend and boyfriend. This change didn't impact my decision this year because we figured out housing before Horizon announced its co-ed housing," Del Real said. "If Horizon would have had mixed gendered housing sooner, I would have considered living on campus, which obviously is more money for the school."
Since most leases come with a security payment to hold one's spot for the duration of the resident's time on the property, students are not likely to go back on their payment to live on campus for another year.
Students also insist that the sense of maturity that comes with living off-campus may not be resolved by the on-campus rooming changes.
"I actually just signed my name on for a house next year with two other friends of mine," Knutson said. "Knowing this information about the school making this possible now hasn't changed my decision. Students want to have that experience of living in a house still or an apartment. It's all about the experience."
This change will be a new experience for UWO, and Babcock is ready for all of the feedback that will come with it.
"Any new decision and/or policy always comes with a learning curve, but I generally think students will like the flexibility of choosing whom they can live with."