UWO alumnus returns to teach in geology department
Max Schwid, UW Oshkosh alumnus, came back to UWO for the fall semester in a break from his Ph.D. program to teach in the geology department.
Schwid was a student
at UWO from 2013 and graduated in 2018. Schwid planned on attending Queen's University in Canada to get his Ph.D. in Geological Sciences, but his plans had to change due to COVID-related traveling issues.
A former adviser contacted Schwid just as he was trying to figure out his plans for the semester.
Schwid said that Dr. Eric Hiatt "mentioned that UWO had an opening to teach mineralogy. This course is the foundation for all the other geology courses."
Because of his interest in all things geology, especially the mineralogy of sedimentary rocks, he applied and got the job for the fall 2020 semester teaching two sections of Geology 205.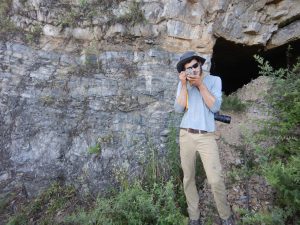 Before Schwid came back to UWO, he got his graduate degree from Virginia Tech and did his field research in rural villages in South China.
"Here, I studied sedimentary rocks that were deposited after Snowball Earth ended and which contain the earliest animal fossils," Schwid said. "My experiences in UWO's research- and field-based geology program, and the faculty members that make it possible, provided me with these opportunities and the skills to compete with the best-trained geoscientists in the world."
When Schwid was at UWO, he was able to study the end of the last ice age — known as Snowball Earth — with Eric Hiatt, a professor in the geology department.
"Sedimentary rocks deposited during this period (about 635 million years ago) link this major climatic transition to the evolution of complex life, record oceanographic conditions and set the stage for the appearance of animals," Schwid said.
Once he graduated he "presented the results of our research at UWO's Celebration of Scholarship, the Wisconsin State Capitol in Madison, and to peers at the international Geological Society of America meeting in Seattle, Washington."
Schwid credits UWO for many of the opportunities he received after undergrad.
"I took advantage of the many field courses that the geology department offers, which allowed me to investigate the modern and ancient environments of Bermuda, South Dakota, Wyoming, Utah and Nevada," he said. "Completing my degree in UWO's geology department directly led to several additional career opportunities, including an internship with the U.S. Geological Survey in Oregon, the opportunity to complete my master's degree, and lab and field courses run by ExxonMobil."
Schwid will not be teaching at UWO next semester and will be able to get started on his Ph.D. program in Canada.
Schwid is leaving UWO with some advice for students. For those who will not be graduating next semester, he said to "prioritize your physical and mental health as much as possible. It can be difficult or impossible to achieve a balance, but it's even harder to learn or excel when you are not well."
As for students graduating and heading into the real world during a pandemic, Schwid said "networking for the next step in your career can still be done online, although it is certainly different. Any variety of relevant experience at this point in time, although it may not be what you expected/desired, may open doors in the future that you did not anticipate."