Student documents mental health through pandemic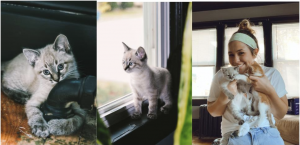 The pandemic has had drastic impacts on almost every area of life, from forcing people to work and attend school from home to moving social interactions online.
One of the major impacts the pandemic has had is the one on people's mental health.
It has forced people into isolation, cut them off from visiting loved ones and instilled a sense of anxiety from the possibility of being exposed to the coronavirus and not knowing what the future holds.
It has worsened people's mental health, increased substance use and elevated suicidal ideation.
That's why when the pandemic hit last year, UW Oshkosh senior Abby Bullard immediately thought about how quarantine and the coronavirus would impact her mental health.
At the beginning of the pandemic, Bullard began documenting how quarantine was affecting her emotional wellbeing, academics and time spent on social media for a sociology course.
Bullard said her mental health was fine at the beginning of the pandemic because the warmer weather allowed her to stay busy with outdoor activities.
"When the weather got colder during the pandemic is when I noticed a decline in my mental health," she said. "I was staying inside often and was extremely unmotivated."
Bullard found that a major deterrent to her mental health was the amount of time the pandemic had caused her to spend on social media.
Bullard said her social media intake nearly doubled during the pandemic.
"Whether I was listening to music, scrolling through social media, finding recipes on Pinterest or shopping online, the percentage of time I was spending on my phone was going up," she said.
Bullard said the more time she was stuck at home, the more time she spent on social media.
"Snapchat is one of the first things I check when I wake up in the morning; it has been a way for my friends and me to share memories, moments and our daily lives with each other while we cannot be fully present in each other's lives," she said.
While social media allowed her to stay connected to friends and family while in quarantine, Bullard said social media became a big distraction during the pandemic.
"My social media usage made me feel even more isolated and alone," she said.
Bullard said it started to take away focus from her classes, and her grades started to suffer from it.
She said she became more careless with her courses and less eager to participate in class discussions.
"I felt more comfortable behind a computer screen," she said.
UWO Counseling Center director Sandy Cox said loneliness has been a hard aspect of the college experience during the pandemic.
"Students have had to learn new ways to connect, enjoy college life and cope with life's challenges, and it hasn't been easy," she said.
Cox said it can be stressful for students who are missing out on developing close friendships and interacting with people in classes because of the pandemic.
Students report missing many of the normal activities of day-to-day life, she said.
"However, they have consistently reported to us their gratitude for continuing to have the opportunities and services available to them to successfully continue their education," she said.
Bullard said online courses during the pandemic decreased her willingness to learn.
"I am extremely extroverted and love being present with my professors and peers in the classroom," she said.
She misses interacting with her friends on campus and when the pandemic took that away from her, she lost interest in her coursework as well.
"As a Radio-TV-Film major, I was used to being around my friends and other students every day doing hands-on learning," she said.
Cox said the pandemic has fortunately made us pay a lot closer attention to our mental health.
"There have been so many different challenges and changes that it is normal for individuals to struggle this past year," she said.
Cox said a lot of students struggle with anxiety, depression, loneliness and irritability because of the pandemic.
"Anxiety and depression have long been the top challenges of college students," she said. "The pandemic experience has increased the symptoms and the increase in number of people affected."
Cox recommends students dealing with mental health issues seek counseling services through the UWO Counseling Center.
Through documenting her own wellbeing and researching how the pandemic negatively affected people's mental health, Bullard adopted two kittens to cope with the struggles of COVID-19.
"They helped me practice my creativity and forced me to get up and be active when I didn't feel like it," she said.
Bullard said her kittens also helped her get away from social media and the negative impacts it had on her mindset.
"They provided me with the hope I needed but could not produce myself," she said.