Police violence still plagues country a year later
Last year the United States had a rude awakening.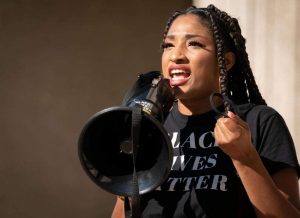 The injustices that people of color, especially African Americans, endure was brought to the forefront.
Minorities in the western world have faced hardships since the beginning of the United States formation.
Many people were tired of seeing innocent people being killed, harassed and oppressed by police officers and the government.
The stress of the pandemic and the murders of George Floyd and Breonna Taylor fueled the desire for change along with centuries of oppression.
Fast forward a year later and the United States is still enduring race-related violence and tension.
On April 11, Daunte Wright, a 20-year-old African American, was murdered by a Brooklyn Center police officer in Minnesota.
Wright was initially pulled over for having air fresheners hanging from his rearview mirror when Brooklyn Center police proceeded to arrest Wright for an outstanding warrant.
Officers attempted to take Wright into custody, but he re-entered the car and Kim Potter, a white officer, pulled her gun and shot once.
Potter apparently meant to use a taser on him, but she ended up shooting him with her gun. According to the Hennepin County Medical Examiner, Wright died from a gunshot wound to his chest.
UW Oshkosh alumna and local Black Lives Matter activist Ciara Hill said while many things in the country can be improved, change is also needed in Oshkosh.
"I believe that in order to bring about equality and equity in Oshkosh, the local government and law enforcement need to first acknowledge their part in upholding the systemic oppression of people of color and black people specifically, as well as white supremacy in this area by their actions," Hill said.
She said that this can be done by reducing the amount of patrolling in Black neighborhoods, fixing the sentences for people of color, improving diversity and increasing equity and inclusion in the city.
Hill said the first step to reformative action is to incorporate diversity, equity and inclusion initiatives for law enforcement agencies and local government officials.
She said a conversation on reparations in Oshkosh should take place.
"It only makes sense we start this conversation since other states and cities are making a conscious effort to improve their cities by doing this," she said. "It also forces them to turn their words into action that will benefit communities of color and the black community as a whole."
Hill also doesn't think that Oshkosh has handled inequality and responded to the murders of George Floyd, Breonna Taylor and Daunte Wright in a constructive way.
Hill said she would have liked to see a press release from local government officials and law enforcement denouncing actions of irresponsible officers in these cases. The UWO Police did put out a statement online in the wake of the George Floyd killing.
"As far as the community of Oshkosh, we would like to see more of a turn out when we are protesting from the white community," she said. "We would like to see them reaching out to see what they can do to help us through this very scary time."
Hill said the Black community is scared that they or their family members may be subject to police violence next.
Hill suggests people wanting to get involved in the BLM community in Oshkosh should support local Black businesses and follow the Black Lives Matter Oshkosh and Wisconsinites for Black Lives Facebook pages.
"Being an advocate means if you see something, say something," she said. "You can be the reason someone gets to make it home to see their family again. If you're a white person living in Oshkosh and you see a Black person being pulled over by the police, stop your car, get out your phone and make sure that Black person is safe".
Hill, along with many others in the Oshkosh community, are continuing to fight for injustice and to make change in the community.
Everyone can do something to make a change and to ensure that Black individuals in our community are being treated as human beings.
Editor's Note: This story was updated to include that the UWO Police did issue a statement in the wake of the George Floyd killing.