Algae blooms create toxicity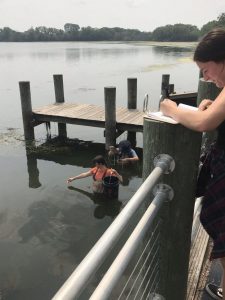 Algae blooms can be toxic to humans and wildlife, but Wisconsin lacks a system that routinely tests for blue-green algae or blue-green algal toxins in its 15,000 lakes, according to the Wisconsin Department of Natural Resources (DNR) website.
"Harmful algal blooms are rapidly reproducing populations of cyanobacteria caused by a favorable set of conditions, including an overabundance of nutrients such as nitrogen and phosphorus, warm temperatures, light availability and calm weather," according to the Department of Health Services (DHS) Harmful Algal Blooms Toolkit.
Cyanobacteria, or blue-green algae, can produce a variety of toxins that are poisonous to people, pets and wildlife.
Exposure to the most common cyanotoxin, microcystin, can lead to short-term symptoms like nausea, vomiting, diarrhea and sore throat, and long-term problems like liver failure and cancer, according to an Environmental Working Group (EWG) study.
Despite the potential dangers, Wisconsin doesn't have a routine monitoring program to test for microcystin every year.
The state collects samples only when a human or animal illness potentially caused by cyanotoxins is reported to the state DHS through the Wisconsin Harmful Algal Bloom Surveillance Program.
"Since testing is conducted only in response to an illness report, the Wisconsin surveillance program does not capture the total picture of algae bloom issues in the state," the EWG study said. "Wisconsin has 15,000 lakes, but since 2010, only 20 were tested through this program."
Blue-green algae, often referred to as "pond scum," are usually green but can also be blue, tan, reddish-purple or brown and generally grow in lakes, ponds and slow-moving streams, according to the DNR website.
"In Wisconsin, blue-green algae blooms generally occur between mid-June and late-September, although in rare instances, blooms have been observed in winter, even under the ice," the DNR website said.
UW Oshkosh associate professor of biology and microbiology Robert Pillsbury said that blue-green algae grow best in relatively warm water with lots of phosphorus.
"Blue-green algae have always been around in Wisconsin but became much more of a problem when European settlers cleared the land for timber and farming, increasing erosion which led to more phosphorus going into the lakes," Pillsbury said. "Sewage from livestock and humans and industrial waste, all of which was fairly unregulated at the time, also contributed to increased phosphorus and, therefore, increased algal blooms."
Pillsbury said that once the Clean Water Act was implemented, there was an overall improvement in water quality and fewer algae blooms.
"But now, with warmer water and more major storm events due to climate change, we are starting to see more algal blooms once again," he said.
Despite federal regulations, excess nutrients from human activities, such as fertilizers, wastewater, automobile exhaust and animal waste, are among the most prevalent causes of water quality impairment in the U.S., according to the Environmental Protection Agency (EPA) website.
Pillsbury said the best way to lessen the effects of blue-green algae blooms is to keep excess phosphorus out of the system.
"We have done a decent job preventing waste from industry and human sewage out of our waterways, but we still need to limit the use of fertilizers in our yards and farm fields," Pillsbury said. "We also need better regulations for animal wastes."
UWO's Sustainability Institute for Regional Transformations has recently established the Winnebago Pool Lakes Harmful Algae Blooms Project to research algae blooms in the Lake Winnebago System and gain an understanding of how the public perceives and responds to harmful algal blooms.
"The project is unique because it's interdisciplinary," UWO senior lecturer for biology and environmental studies Shannon Davis-Foust said. "We are looking at not only the level of toxins in the water, the biological and chemical parameters, but we're also looking at people's perceptions of the water in terms of if they think it could harm them and also what they know about the causes of algae blooms."
Davis-Foust said she has been surprised at the variety of people's responses and levels of knowledge regarding algae blooms.
"The algae blooms are perhaps the most harmful things out on the lake for us, and yet they seem to be the least known," she said.
Davis-Foust said the researchers have three locations in the Winnebago Lake System that they try to test weekly — Menominee Park, Lake Winneconne and High Cliff, but they also try to visit places where they know there's algae blooms or want to inspect for one.
"We picked those three locations because they've all been known to have algae blooms, and they're also the three main swimming access points on the lake system," Davis-Foust said.
The EPA developed swimming advisory levels which local health departments can use as a basis for issuing warnings or closing public beaches, according to the DNR website.
However, since most local health departments in Wisconsin are unable to monitor blue-green algae toxins at public beaches, the DNR website advises people to treat any accumulation of blue-green algae with caution and, "when in doubt, stay out!"
To report significant blue-green algae blooms to the DNR, email with the location of the bloom, the name of the water body, nearest town, county, the size and duration of the bloom and overall and close-up photographs for verification.
For more information on blue-green algae, including symptoms of exposure and environmental concerns, visit the DNR Blue-Green Algae webpage.
To learn more about UWO's Winnebago Pool Lakes Harmful Algae Blooms Project visit uwosh.edu/sirt/wpl/ or email with questions.