UWO's evolution through the years
Last Sunday, a celebration was held in honor of UW Oshkosh's 150th anniversary, but the school has gone through many changes to become what it's known as today.
"Over the past 150 years, UW Oshkosh has had five names, each representing a different mission and role within higher education in Wisconsin," UWO archivist Joshua Ranger said.
UWO began as the Oshkosh State Normal School in 1871 with the sole purpose of educating high school graduates to become teachers.
The school, led by President George S. Albee, opened with eight faculty members and 43 enrolled students attending the first day of classes, according to the UWO website.
Ranger said that some programs only took a year, while others required three, and later four, years to complete.
"Because of this variety of program lengths, for over fifty years, the Normal could only provide diplomas, not undergraduate degrees, to its graduates," Ranger said. "Over time, this disadvantaged our students in the workplace as some high schools wouldn't hire them or at least pay them the rate teachers with degrees received."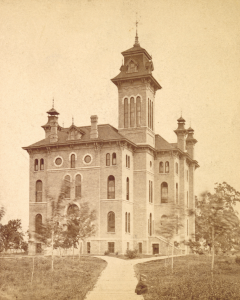 This was the third normal school in Wisconsin and was the first normal school in the nation to have a kindergarten, according to the UWO website.
Tuition was free at the Oshkosh State Normal School as long as the students planned to teach in a public Wisconsin school.
Throughout the years, the school underwent several name changes including the Oshkosh State Teachers College in 1927 and the Wisconsin State College Oshkosh in 1951.
"By 1949, the school had developed a very popular junior college sequence for students with no intention of teaching with the idea they would then transfer to a four-year school to finish their degrees," Ranger said. "With over 1/3 of the school enrolled in this program, it was clear we had become more than just an education school. This convinced the legislature to allow us to offer other majors and so in 1951, we started offering liberal arts degrees and we became Oshkosh State College."
"Some of the first majors were in core subjects like English, history and the sciences," Ranger said. "But new programs grew quickly."
JUMP
"In 1964, the school needed to re-organize itself into different schools, later called colleges, of liberal arts, education and a graduate program," Ranger said. "By doing this we became a true university and our name became Wisconsin State university, Oshkosh."
Wisconsin State University, Oshkosh was the largest of the nine schools in the WSU-System.
"Nursing and business programs were soon added, and by this point were offering a huge array of undergraduate majors and graduate degrees and growing by 1,000 students a year, this being the height of when the baby boomers were entering college age," Ranger said. "We were hiring faculty like crazy and constructing new buildings to hold everyone."
Ranger said the impact of campus on the city and region grew exponentially, and there were even plans to to grow the campus to 20,000 and add PhD. programs and a law school.
However, in 1971, the State University merged into the University of Wisconsin systems and became the University of Wisconsin Oshkosh which brought on several innovations to the school.
"Economic changes and other factors led us to curtail some of our wilder plans and focus on becoming one of Wisconsin's stellar regional comprehensive universities, often the largest of that group," Ranger said. "Our role then is to provide East Central Wisconsin and the Fox Valley with a core set of majors as well as some specialized professional opportunities, which, of course, still includes our excellent College of Education and Human Services."
Other changes included a new academic calendar with 14-week semesters and three-week interim sessions, as well as a Faculty Development Program, according to the UWO website.
In 2018, the university expanded to three campuses and now includes UWO Fond du Lac and UWO Fox Valley in addition to the original UWO campus.
Today, under the leadership of Chancellor Andrew J. Leavitt, UWO is the third largest university in Wisconsin with an annual on- and off-campus enrollment of nearly 14,000.
"You know, when we opened in 1871, our first president, George Albee, claimed that 'Intelligence for the many, not the few' was to be our motto," Ranger said. "It's the same today — with our three campuses and associate through doctorate degrees, we are holding to that 150- year promise of democratic access to higher education and we should all feel proud of that."