UWO hits 70% vaccination rate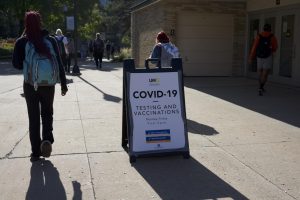 UW Oshkosh extended its mask, testing and quarantine orders on Tuesday to Nov. 25, despite the fact that students reached a 70% vaccination rate the week before.
In a campus-wide email, UWO Police Chief Kurt Leibold said the orders can be lifted earlier if factors such as active case counts, community spread, emergence of variants and vaccination rates get to a point where the campus will be considered a safe enough place.
Chancellor Andrew Leavitt announced on Sept. 24 that UWO students achieved a 70% vaccination rate.
"We have come a long way in a few short weeks. I am not surprised," Leavitt said. "This is just one more example of the caring, compassionate community that is UWO."
Beyond keeping the campus healthy and safe, full time, fully vaccinated students at all three UWO campuses will now be eligible to receive one of eight $7,000 scholarships and one of 10 $1,000 scholarships if they report their vaccination status by Oct. 31.
UWO was the fourth UW System campus to hit 70% and joined UW-La Crosse, UW-Milwaukee and UW-Madison. UW-Whitewater has since hit the 70% mark, too.
This campaign, called 70 for 70, was set by the UW System back in July to encourage and incentivize students to get vaccinated.
"Getting students vaccinated now is why the UW System is making this commitment," said UW System Interim President Tommy Thompson when the campaign was introduced. "We are investing for success and vaccinated students will not only keep our campuses safe and healthy, but also help us to avoid the human and capital costs associated with outbreaks we want to prevent."
UWO faculty and staff are at a 78% vaccination rate, Leibold said.
Leavitt continues to encourage the 22% of unvaccinated faculty and staff and the 30% of unvaccinated students to get their vaccine.
"If you haven't been vaccinated, do so today," Leavitt said. "Seventy percent is great, but we'd like that number to continue to climb."
There will be a free ice cream social on all three campuses on Oct. 6 to celebrate reaching the milestone. In Oshkosh, ice cream is available from 11 a.m.-1 p.m. between Reeve Memorial Union and Albee Hall. Ice cream will be available noon to 2 p.m. at the commons of the Fond du Lac campus near Solutions Center at the Fox Cities campus.
If you haven't been vaccinated, you can head to Albee from 9 a.m. to 3 p.m. Mondays through Fridays for your free vaccine. If you are vaccinated but haven't reported it, go to the Titans Return page to do so.