Monarch butterfly waystation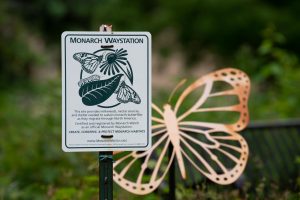 UW Oshkosh has become a certified Monarch Waystation in an effort to combat the declining monarch butterfly population.
Monarch Waystations are designated areas throughout the country that provide resources to migrating monarch butterflies. They provide shelter for protection from predators and consist of plants that provide nutrients, such as milkweed.
In 2015, the campus as a whole was officially designated as a Monarch Waystation by Monarch Watch, a conservation group dedicated to spreading awareness about the declining monarch butterfly population.
Each year, monarch butterflies migrate to warmer climates because they cannot survive the winter. They are the only butterfly species that makes a two-way migration similar to birds.
According to the National Park Service, the migration of monarch butterflies is important for the environment because they "contribute to the health of our planet. While feeding on nectar, they pollinate many types of wildflowers. Monarch butterflies are also an important food source for birds, small animals and other insects."
Specifically, the population living in Eastern North America travels approximately 3,000 miles to the Sierra Madre Mountains in Mexico, while the Western North American population migrates from the Rocky Mountains to the Pacific coast in California.
The monarch butterfly population has declined 90% in the last few decades, which is due to "degradation of their Mexican mountain forest habitat, rapid loss of milkweed habitat in their central flyway, the increased use of pesticides and other toxic chemicals, and impacts from climate change," according to the National Wildlife Federation (NWF).
"The monarch butterflies are threatened by the use of chemicals which reduce their food source, and by the destruction of the waystations on their migration south," said Lisa Mick, the supervisor for the UWO Grounds Department. "We are a certified wildlife habitat and do everything in our power to be a benefit to the critters that share this world with us."
UWO's Monarch Waystation not only provides milkweed for monarch caterpillars to eat, but also nectar plants, such as purple coneflower, monarda, zinnia and salvia for butterflies. Other animals, including other insects and birds, also benefit from the waystations as the plants provide resources for them as well.
If you would like to help sustain monarch butterflies during their annual migration, the NWF recommends planting native milkweed, discontinuing using pesticides and herbicides, and creating a wildlife habitat garden with native plants that provide nutrients and shelter.