Campus reacts to in-person advising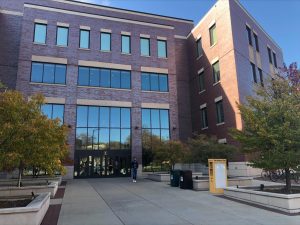 UW Oshkosh is holding in-person advising appointments for the first time since the COVID-19 outbreak sent everybody home for remote instruction.
To accommodate the recent circumstances, just like with classes and club and organization meetings, advising appointments have been held online using video chat platforms such as Zoom, Blackboard, Collaborate Ultra and Microsoft Teams.
Elizabeth Taylor, an academic adviser for the Honors College, said she had a mixed reaction when she found out that advising would take place in person this semester. She said that she was slightly reluctant about face-to-face interactions, but she was also looking forward to working with students in person once again.
"I'm fully vaccinated, but I still worry about having hundreds of meetings face to face with students," Taylor said. "At the same time, I was happy to be getting back to some form of normal advising."
Anamay Del Real, a UWO third-year nursing student, said she feels that in-person advising can enrich the college experience, but that she understands the preferences of those who aren't ready for face-to-face interaction quite yet.
"I think it's nice because I know a lot of people miss that in-person interaction, and it gives you the full college experience," Del Real said. "I still think it's nice that there are online options for people that want to be more cautious."
Some advisers, such as radio/TV/film professor Caryn Murphy, are still having appointments online. Murphy said she has found numerous benefits with virtual advising. Scheduling flexibility was a huge benefit that she honed in on.
"I think the biggest advantage of virtual advising is that I can change my office hours every week," Murphy said. "I typically have 30-plus students assigned to me for advising, and it never worked well to tell them, 'My office hours are these three times every week, and that's the easiest time for you to come in and see me.'"
While there are benefits present for some advisers, other advisers, like Taylor, see disadvantages.
One disadvantage Taylor said she found was that it is hard to pick up body language cues and other physical mannerisms on a screen.
A student may seem satisfied with one class by strictly judging their diction and tone of voice, but if their facial expression changes (which is impossible to detect if a student has their camera off), this could be an indicator to Taylor that other options may be of greater interest.
"When meeting in person with students, I'm able to pick up on sometimes subtle physical cues that help me get a sense of how a student is really feeling," she said. "It was very difficult to read these cues online. It's [also] much easier to tell if a student is following along and understanding what I'm saying if we are meeting in-person."
Del Real, who has her advising appointment scheduled in the future, said she doesn't lean either way in terms of the form of her advising appointments. She also said that having each option for certain circumstances is very convenient.
"I personally don't have a preference, but I appreciate that there are options," she said. "If one day I am really busy, the online option is there, but I still value being able to go in person and have that interaction."
Murphy said she hasn't had much feedback from students regarding online advising, but one student seemed relieved that Murphy was available online in general.
"I should seek more feedback from my advisees on it," she said. "Yesterday, a student asked to interview me for a project she's working on and when I suggested that she just put herself on my calendar, she was relieved – she was hoping we could meet in Teams. I haven't had advisees give me info on what they like or dislike about it."