UWO adds on certificates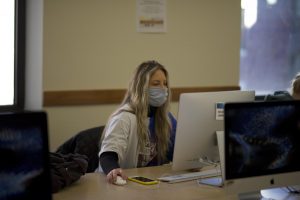 Certificate programs at UW Oshkosh are rapidly expanding and have added new disciplines to their already extensive list of possible choices.
Liz Cannon, director of the LGBTQ+ Resource Center, said that a certificate allows students to learn and enhance their knowledge in different areas with less credits than what a minor would need.
"It increases their general knowledge and also makes them more marketable as they have this wider range of understanding that they can bring to a job," Cannon said.
UWO offers a large variety of nearly 50 undergraduate certificates that can be found on the website. Some of the certificates that students can receive are in LGBTQ+ studies, Indigenous Studies, and new certificates that the journalism department added are in social media, multimedia journalism, public relations and advertising.
Certificates can be earned at an undergraduate level, graduate level and even non-credit options. UWO also offers 22 certificates at the graduate level and 13 as non-credit options.
Some of the certificate programs have existed for several years. Cannon said that the LGBTQ+ studies certificate started in 2013 and it was started because of how the student responded to the classes they were taking through that department.
"We began the program in 2013 in response to the need for more curriculum to reflect the rich culture, history and lives of LGBTQIA+ people," ey said. "A few such programs existed across the System, at UW Madison and UW Milwaukee specifically, and I knew there was a need for such a program here."
Other departments are looking at adding new certificate programs. For instance, at the College of Letters and Science Curriculum Committee meeting in late October, two new certificate options were on the agenda under new business: behavioral science and surface water certificates.
Sara Steffes Hansen, the chair for the department of journalism for UWO, said the department received approval for the four certificates last spring and launched them this fall. The new journalism certificates will provide knowledge and skills in social media and marketing that are in high demand in the job field, she said.
"We see our majors and minors able to leverage their degrees in this way to work in the field," she said. "But sometimes, even a minor may be difficult for a student to fit in because they discover our programs at a late point in their college career, so that was one reason for adding certificates."
She said that another reason was to help other UWO students who aren't journalism majors gain skills in media strategy and content creation.
Some of the benefits that come from earning a certificate are an advancement of skills and a deeper understanding into the different areas of learning.
Adrian Hanrahan, an English major who is also getting a certificate in LGBTQ+ studies, said that he wants to get his Ph.D. in English literature and hopes to use his certificate to help him connect with his students when he is a professor.
"I guarantee that I will be working with many LGBTQ+ students when I am a professor, especially as the number of our LGBTQ+ people rises," he said. "I hope to provide these students with the support they need while also making them aware of our community's rich history and culture."
He also said that he chose to get a certificate because he wants to focus his studies on queer literature and queer theory and that the program's classes help him do just that.
"I've done a lot of reading about these topics on my own, but there's something about the classroom setting and the support of a professor that makes me much more interested, involved, and competent in the complexities of queerness." he said. "These courses also offer me unique opportunities to learn about the experiences of LGBTQ+ people whose identities differ from my own, such as queer women, queer people of color, and nonbinary people."
Cannon said that ey thinks having a certificate in LGBTQ+ studies helps to deepen the knowledge of other identities and is beneficial because it's a topic that is not always covered in the different disciplines.
"Yet, there is no doubt that people interact with LGBTQIA+ people in their lives and especially in the workplace, and an understanding of LGBTQIA+ culture enhances a person's ability to work effectively with LGBTQIA+ people," ey said. "This knowledge is especially important for anyone going into a field where they work with clients — education, social work, human services, and human resources."
If students are looking into getting a certificate in a specific area of study, they should contact their adviser or talk to anyone in that department. On the university's website there is a link to the different certificates available and how one can apply to earn a certificate.
"I think that many of us in higher education are asking how we may be innovative to meet the needs of students," Steffes Hansen said. "Certificates came up in our faculty discussions as a way to increase access to our course content to students across our university."
Editor's note: This story was updated to include the preferred pronouns of one of the sources.