UWO alumna still giving back

The contributions from a local volunteer are helping UW Oshkosh take steps to becoming a more environmentally friendly and sustainable campus everyday.
Anita Carpenter, designated the "prairie keeper" of the grounds, is a retired pharmacist and avid naturalist who fights for sustainability on the Oshkosh campus.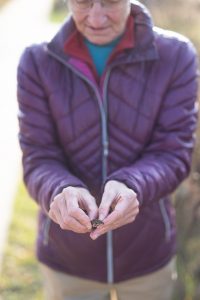 "She is our most fierce advocate for having a campus that isn't just vast lawns," said Misty McPhee, a UWO environmental studies professor who works on projects with Carpenter. Native gardens might look a bit "messy," but they are full of biodiversity, and require no chemicals and no fossil fuels, McPhee said."No one understands that better than Anita and no one fights for it more than Anita."
After receiving her degree in pharmacy from UW-Madison, Carpenter worked in the field for some time before having a change in passion.
"I started working in pharmacy, but within six months, I realized this wasn't for me and my real love was for biology," Carpenter said. "I guess deep down inside, I wanted a degree in biology. So I came to UWO and got a Masters of Science in biology here. Just for the fun of it. I loved it."
Carpenter received her biology degree from UWO in 1983, but went back to pharmacy and used her free time to volunteer on campus. She led the biology department's spring break field trips for 32 years, and she currently spends her free time helping maintain the grounds, designing native prairie gardens that contribute to a more environmentally friendly campus, and advocating for sustainability.
"She can often be spotted weeding perennial beds and bioswales on campus, monitoring bird nesting sites, or identifying insects – all of which she mastered long ago and her knowledge is really unparalleled," said Campus Sustainability Director Bradley Spanbauer, a friend to Carpenter.
In 1980, Carpenter helped found the Winnebago Audubon Society, a nonprofit organization that promotes education and conservation of birds and the natural environment. She has served as president and vice-president, and is currently on the board of directors.
Carpenter is author of the "Flight Feathers" bimonthly column in the Wisconsin Society for Ornithology's "The Badger Birder" and the "Badger Tracks" column in the Winnebago Audubon Society newsletter "The Lake Flyer", as well as numerous articles in the Wisconsin Natural Resources Magazine.
When reflecting on the 40 years of friendship with Carpenter, Janet Wissink, the current president of the Winnebago Audubon Society, said Carpenter loves to share her interest and knowledge.
"To take a walk in the woods or through a prairie with her is an eye-opener when it comes to discovering the tiniest insects and finding the birds flitting about in the treetop," Wissink said. "She readily shares her wealth of knowledge and curiosity about the natural world."
For her contributions to sustainability, conservation and overall passion for the preservation of the natural environment, Carpenter received the Great Egret Award from the National Audubon Society in 2012 and the Bronze Passenger Pigeon Award from the Wisconsin Society for Ornithology in 2019.
Carpenter has a message for current UWO students.
"This campus is so beautiful," she said. "Just unplug. Pick the plugs out of your ears. Stop looking at your phones and look at what's around. You never know what you're gonna see when you do. Every day is different."