Deer test positive for COVID, caution urged for hunters
The Wisconsin Department of Health Services (WDHS) is encouraging people to wear masks when field dressing game during the hunting season due to recent studies discovering white-tailed deer testing positive for COVID-19 across multiple states.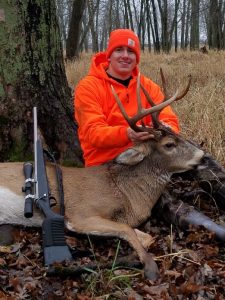 While Wisconsin's nine-day gun season is over, the bow season extends through the end of the year, and an antlerless holiday hunt goes from Dec. 24-Jan. 1.
"Close contact with an infected person is still the most likely way a person would be exposed," the WDHS website stated. "However, we still have much to learn about white-tailed deer and SARS-CoV-2 infection, including learning what risk, if any, an infected deer may pose to hunters."
According to several studies across the country, white-tailed deer are testing positive for SARS-CoV-2, the same virus that causes COVID-19 in humans. Studies include those by the Ohio State University College of Veterinary Medicine, University of Pennsylvania, Iowa DNR, and a survey from the U.S. Department of Agriculture (USDA).
The USDA survey discovered COVID-19-positive deer in Illinois, Michigan, Pennsylvania and New York.
"Antibodies to SARS-CoV-2 were detected in 40% of the 2021 surveillance samples. Antibodies were also detected in three samples from 2020 and one sample from 2019," the USDA survey stated.
"Current evidence suggests that the disease has been able to spill-over from human populations to white-tailed deer," said Lindsey Long, a wildlife veterinarian from the Wisconsin DNR. "The exact mechanism for these spill-over infections is not yet known."
Wisconsin has not tested white-tailed deer for COVID-19, but the DNR is currently engaging with federal and state partners to participate in a multi-state study to monitor deer within the state, Long said.
As for the potential impact this has on hunting, Long said that there is no evidence of COVID-19 spreading from white-tailed deer to humans and that the risk is low.
"According to the CDC, there is no evidence that people can get COVID-19 from preparing and eating hunted game meat," Long said. "However, hunters can get infected with many diseases when processing or eating game, and they should always practice good hygiene when processing animals."
Eli Oskey, a UW Oshkosh junior and avid hunter, said he is not worried about contracting COVID-19 from game meat.
"Overall, I'm not really worried about wearing a mask while handling deer," said Oskey. "I'm more worried about other diseases like chronic wasting disease (CWD) in the deer population, but when it comes to being in large groups, it is smart to wear masks."
Even though there is currently no evidence that indicates COVID-19 is spreading from animals to humans, the CDC suggests hunters can reduce potential risks by using personal protective equipment such as a mask while field dressing deer.
"Wear a mask to reduce your risk of coming into contact with pathogens transmitted through respiratory droplets. Preparing a carcass may make aerosols (small droplets and particles in the air) which could contain the virus," according to the CDC.
In addition to white-tailed deer, other animals have tested positive, including pets (cats, dogs and ferrets), animals in zoos and sanctuaries (big cats, otters, non-human primates and hyenas) and mink on mink farms.