Textbook shortages expected for spring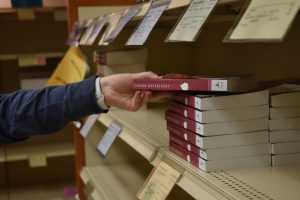 Due to disruptions in global supply chains, publishers have been reaching out to bookstores to warn of possible shortages for the spring semester.
"From labor shortages to transportation delays, to raw material scarcity, supply chains everywhere are being affected," University Books & More Assistant Director and Course Materials Manager Nikki Stoll Olthoff said. "The paper and publishing industries are no different. There is a shortage of wood pulp used to make paper, a shortage of ink to print the pages, a shortage of operational printing presses and the staff to operate them and a shortage of truck drivers and transportation labor to get the product from point A to point B."
University Books & More Director Thomas Wolf said they have been monitoring the supply chain situation and were already seeing supply issues with clothing, gifts and consumables in its convenience store.
"To try to mitigate the textbooks situation, we reached out to faculty and administration to urge them to submit their required textbook and supply orders earlier than normal and as soon as possible," Wolf said. "In our position as the bookstore, our hands are tied until we receive those official orders from faculty and instructional academic staff. That is the first step."
Wolf said they immediately started sourcing copies as they received these book requests.
"With print materials, we always try to source used copies first to save students money," he said. "We will then purchase new from publishers to fulfill any remaining demand."
Wolf said they are also in a better situation since they partnered with an ebook provider to offer ebooks for many courses.
"Students can purchase those ebooks directly through our website and have the ability to charge the cost to their student account just like a regular print book," he said. "This allows students to be able to utilize their financial aid on digital [books] as well."
As in every other industry, Stoll Olthoff said, a low supply and high demand will eventually lead to an increase in prices.
What's different in the course materials industry, she said, is that the publishers dictate pricing by establishing the list price of a book, whether it's print or digital.
"Profit margins on course materials are extremely small compared to other consumer products," she said. "Because University Books & More is institutionally owned and operated (versus a leased operation like Barnes & Noble or Follett), we have more control over our margins and will continue to keep our pricing as low as we possibly can for our students."
The University Books & More spring book orders are arriving daily, and so far, Stoll Olthoff said, pricing from publishers has remained fairly stable.
"Average semester spending by students on course materials has actually been on a decline in recent years," Stoll Olthoff said. "This is in part due to the increase in ebook usage and availability."
This current supply chain issue has not necessarily changed the content that instructors are assigning, Stoll Olthoff said, and instructors that have been using courseware and access codes are continuing to use them.
"More instructors have been choosing to assign digital materials like courseware and access codes for the last few years, but that usage was trending upward long before the pandemic," Stoll Olthoff said. "If anything, we have noticed that more instructors are specifically indicating that they will allow students to use ebooks in addition to print."
In addition, Wolf said, they began informing the provost and reaching out to faculty and instructional academic staff in mid-October, with the potential for shortages and the need for early adoptions of spring course materials.
Spring semester course materials are available at University Books & More starting Jan. 10, both in-store and online.
"Our advice to students is to order their course materials early for the best selection, especially if they prefer print," Stoll Olthoff said.