Being Black in white spaces
"When did you realize your race and how?"
A simple question, with not-so-simple answers.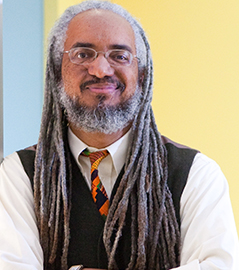 Guest speaker Amilcar Shabazz, a professor of history and Africana studies at the University of Massachusetts Amherst, spoke over Zoom on Feb. 9 and invited UW Oshkosh students to turn on their cameras, introduce themselves, and more importantly discuss the idea of "being Black in mostly white spaces."
Shabazz introduced the topic of striking while the iron is hot and the importance of a restless call for reform and justice amid the current era of rage against institutional injustice, recalling names of George Floyd, Breonna Taylor and the most recent, Amir Locke. He encouraged action from all groups, whether it be on the governmental, corporate or personal levels, especially those of minority status who are most capable of describing societal ailments.
Shabazz took this further by expressing his desire for Black students to act for Black interests without fear of how it may be interpreted by majority groups.
The discussion was part of UWO Black History Month.