Bolt Band adds to game hype
The UW Oshkosh touts not just athletes, academics and some avid drinkers, but also an exceptional group of student musicians who comprise the university's new pep band called Bolt Band.
The idea of a UWO pep band is not a new one, as there was a student run pep band about a decade ago. But there is no doubt that this band and its members have brought back more enthusiasm and excitement — in short, pep — to basketball games.
The Bolt Band began making appearances this winter sports season at Kolf Sports Center, with the musicians performing several genres of music. When they're not playing, they're stomping their feet, cheering on the Titans and, most importantly, having fun.
All those attributes would be impressive in a long-standing band with great tradition. However, due to the exceptional efforts of its performers and its director, Joseph Scheivert, they were able to start the Bolt Band in only a few months, with auditions being held in mid-November.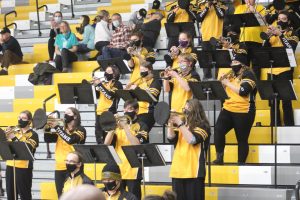 Scheivert was hired last summer to start the pep band, as well as a marching band named the Titan Thunder, the latter which will debut next fall. Backed by considerable support across campus, Scheivert not only designed the uniforms, but also selected the songs the bands performs, scheduled practices and more.
With two decades of band directing under his belt, Scheivert said he used all of his accumulated experiences to create the new bands.
"There are elements of all of my previous schools worked into this," he said. "Some of those programs were over 100 years old, some were five years old. When I was starting from scratch, I saw how old programs have operated and new programs were started up."
Scheivert said he plans to continue to grow the new UWO bands, beefing up his roster of musicians and increasing the number of songs they perform. For those interested in becoming part of the Titan Thunder, the next Zoom information session will be held from 8-9 p.m. March 3.
The Zoom link and future information sessions times and dates can be found at https://uwosh.edu/marchingband/apply/. At each session, they will talk about what the band will be like and how to apply, as well as give prospective members a chance to talk with band members and leadership and ask questions.
Bolt Band member Sean Lawrence, who plays the trombone, said he was incredibly appreciative of the opportunity to be a part of a college band, as he had been in band throughout high school. He said being in the band was both fun and challenging, especially during the first few days of practice.
"We had two five-hour rehearsals in December, and our third rehearsal ever was two hours before our first home game against the UW-Whitewater men's basketball team," Lawrence said.
He said he plans to stay involved in Bolt Band and is extremely happy with what it has become with everyone's efforts in such a short time.